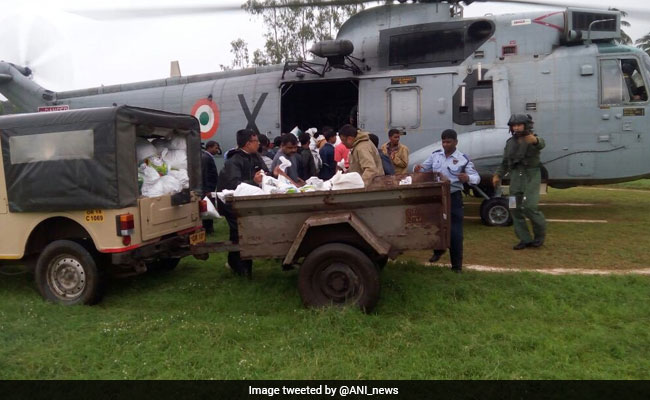 Bhubaneswar: A red alert has been sounded in Odisha for the next 24 hours after the extremely heavy rainfall led to floods in the state. Swollen Nagavali and Kalyani rivers have inundated Kalahandi and Rayagada districts. Yesterday, the Odisha government sought the help of the army and the air force to rescue the stranded and requested the Centre to provide IAF choppers to intensify relief and rescue operations. Rain fury continued across the country claiming nine lives in Gujarat, while in Assam the death toll touched 60 though the flood situation has eased.
Here is a 10-point low-down on the flood situation across the country:
Chief Minister Naveen Patnaik said the situation is being closely monitored. "With prompt response we have been able to rescue most people affected by flash floods in Nagabali and Kalyani rivers in Raygada district," tweeted Mr Patnaik.
Major roads were damaged and several bridges, including a railway overbridge, were washed away in the floods. Train services have been severely affected along the Rayagada-Titlagarh railway section.
Bhubaneswar Meteorological Department Director Sarat Sahu said a low pressure area had formed over northwest Bay of Bengal off north Odisha which will result in heavy rain, he added.
Free kitchens have been set up in the affected areas and schools have been closed in Kalyansinghpur block of the badly-hit Rayagada district.
In Gujarat, at least nine people have died and over 400 rescued by the National Disaster Response Force and the Indian Air Force as heavy rains lashed the state in the past two days.
The flood situation in Assam has marginally improved with the water level receding, amid reports of one more death raising the death toll to 60 and over 10 lakh people affected across 21 districts.
The Brahmaputra is flowing above the danger mark at two places - Nimatighat in Jorhat and Dhubri town. 1,512 villages are still under water and nearly 50,000 hectares of crop area is inundated. Authorities are running 280 relief camps and distribution centres in 15 districts.
10,99,141 animals and poultry have been affected. Rescue teams have delivered grass and other feed to animals stranded in flooded sections of Assam's Kaziranga National Park, home to India's famed one-horned rhinos and other native species.
Parts of Arunachal Pradesh have endured some of their worst floods and landslides in years amid more than a week of incessant rain. At least five people were killed by a landslide last week in a remote village
In Maharashtra's Thane district, two persons were killed and four others injured when a house collapsed at a village following rainfall. Traffic on the 300-km long arterial Jammu-Srinagar national highway, was suspended for a few hours due landslides triggered by rains in Ramban district.