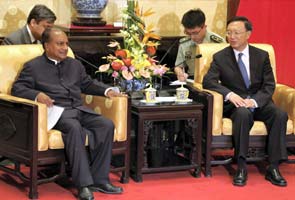 Beijing:
Setting aside recent acrimony over Chinese incursions in Ladakh, India today said there is "real forward movement" on the Border Defence Cooperation Agreement with China aimed at averting such incidents.
"There is real forward movement on the Border Defence Cooperation Agreement (BDCA)", Defence Minister A K Antony who held hectic talks with both civil and military leadership in Beijing for the past two days told the Indian media here.
"On most of the provisions of the BDCA there is already real consensus. There are some more discussions needed on some of the areas. The discussions will continue and will arrive at a final conclusion within a reasonable time limit. There is really forward movement on that", he said, wrapping up his visit to Beijing.
After Mr Antony's meetings with Premier Li Keqiang, his counterpart Gen Chang Wanquan and state councilor Yang Jiechi, a joint statement issued, said peace and tranquillity on the border was an important guarantor for the growth of the bilateral cooperation.
"The Ministers emphasised the importance of enhancing mutual trust and understanding between the two militaries," the statement said.
Apparently in an effort to avoid incidents like Chinese soldiers pitching tents in the Depsang valley in April resulting in tensions between the two countries, the statement said, the ministers reviewed "the working agreement and protocols dealing with the maintenance of peace and tranquillity and directed that it be further strengthened".
"Appreciating that the border defence cooperation would make significant contribution in that regard, they agreed on an early conclusion of negotiations for the BDCA between the two governments", it said.
Mr Antony said his talks with Premier Li as well as with his Chinese counterpart, followed by the China's Special Border Representative Yang today, were "free and frank" transcending the pleasantries.
Mr Antony went ahead with his visit even after knowing about the death of his sister Infant Teresa in Kerala, as he wanted to complete all the meetings lined up for his visit which took place after a seven-year gap.
Mr Antony said that he learnt the importance of completing the task on hand from the armed forces. "Now that I finished the visit I will go and attend her funeral," he said.
He is due to leave early tomorrow.
Mr Antony cancelled all the sightseeing programmes after learning about her death.
Asked whether the infrastructure development of the border areas would be continued without any interruption as China was reportedly concerned about it, he said, "We discussed many things free and frankly. Don't want to mention anything at this point of time. The outcome is very positive".
He said the realisation in both the countries is that "we have to be realistic" as solution to the border dispute, which is mainly a problem left over by history will take time for resolution.
"Don't expect immediate solutions", he said.
"Only (with) this realistic basis you can proceed. You have to find solution to the border problem" which is being addressed by Special Representatives who have held 16 rounds of talks, Mr Antony said.
Till then problems at the borders have to be handled, he added.
His visit was aimed at addressing it, he said, adding that the main issue was to maintain, peace, tranquillity and stability at the borders.
"Only if there is peace at the border we can concentrate on development and progress", he said.
"Now there is real consensus to maintain peace and tranquillity at the borders", he said, adding that this was the firm message he got from the all Chinese leaders he met.
The dialogue and consultations would move further when Prime Minister Manmohan Singh would visit China later this year.
"I am happy about the outcome because there is consensus of minds, consensus in the military leadership, till we find solution to the border dispute we must maintain peace and stability and tranquillity. That is the main outcome (of the visit)", he said.
On how the two countries proposed to move forward, Mr Antony said, it was possible only by maintaining peace and tranquillity and avoid incidents.
"If something happens solve it immediately. In that respect military to military level confidence building is essential", he said.
From now on the two sides would focus on interaction at various levels of the forces to promote understanding, he said.
"There should be trust and confidence not only at top but also at the ground level. There is consensus on that. That is another positive outcome", the Defence Minister said.
More exchange will take place at all levels with more interaction, he said.
Also the two sides finalised military exchanges between the two countries which would be resumed after a gap of five years.
About 110 personnel from both countries each would take part in the anti-terrorism exercises being planned in China's Kunming city in October this year.
After his talks, Mr Antony visited China's National Defence University (NDU) on the outskirts of Beijing to study its functioning as a foundation stone has been laid for such an institution to be established near New Delhi recently.
NDU caters to the training of officers of all the three forces.
He later drove down to Tianjin, about 110 kilometres from Beijing to see China's 24th Air Force base which protects capital Beijing and Tianjin cities.
The presentation, which was followed by interaction between Mr Antony's high power defence delegation focussed on how China is coping with its training and operations of its advanced fighter aircraft like F-10 and F-11, regarded as the third generation jet fighters.
The joint statement said, senior military commanders from service headquarters, command and military region and filed formations will exchange visits regularly on mutually agreed annual schedule.
The visits of border troops delegations would be enhanced to promote dialogue and strengthen trust and cooperation, the statement said.
Border personnel meetings (BPM) will take place with greater frequency and additional locations will be finalised after discussions.
The navies of both the countries will increase visits of ships, consider conducting joint maritime search and rescue exercises and cooperate in counter-piracy operations, it said.
The call by PLA Hospital ship "Peace Ark" to Mumbai in August this year will be welcome, it added.
The Air Forces will carry out high level visits and expand their functional exchanges. They would focus on topics of mutual interest including flight safety, aviation medicine and training, the joint statement said.
Military training institutions will also strengthen their exchanges at the faculty and student levels. To promote greater awareness and understanding among young officers of the armed forces, visits and exchanges will be carried out annually, it said.