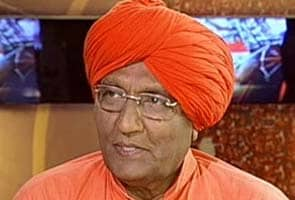 New Delhi:
Rape cases will come down if people shun non-vegetarian food and alcohol, activist Swami Agnivesh said on Saturday.
"We cannot stop a crime like rape by policing only.... I think rapes will come down significantly if people stop eating non-vegetarian. There has been lot of research on this.... Rapes will come down significantly if alcohol consumption is not there," he told reporters in Delhi.
He said a lot of crimes and accidents take place due to the consumption of alcohol.
Arguing on the benefits of a vegetarian diet, he said Japanese scientists conducted a study on the oldest man on earth recently and they found that he was a vegetarian.
"Every research conducted in this world points to one fact that red meat is the reason behind all diseases," he said.
Mr Agnivesh said that all the six accused in the gruesome rape of a young girl in a moving bus in December last year were drunk as well as the accused in the recent incident of sexual assault on a five-year-old girl.
"In both the incidents, the accused consumed alcohol. This explains clearly that alcohol drove them to commit the crime. Alcohol shuts down the moral thinking of a person," he said.
"Government is not ending alcohol-production in the country as it fetches revenue. All the states have now started competing to outnumber each other in alcohol production. This has become the norm," he said.
Expressing concern over the fact that every day one billion animals are slaughtered, he said that "its consequences will be severe."
Regretting the loss of values in people, Mr Agnivesh said, "There are no moral and spiritual values left in people. Schools today do not teach children about the evil-consequences of drinking. We cannot blame an individual for a crime. The society, as a whole, is responsible."
Asked about whether death penalty will stop rape, he said, "Death penalty will not do anything. I do not support it. Death sentence should not be given to anybody including those who attack Parliament. Even Kasab should not have been given death sentence."