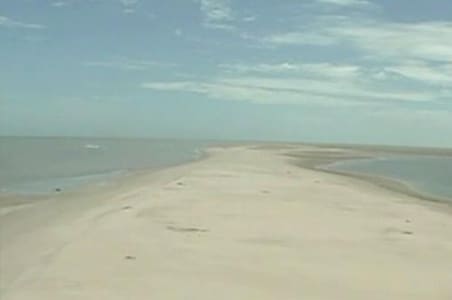 New Delhi:
Several union ministers and leaders of the ruling BJP have cheered the trailer of a US Science channel programme that suggests that the "Ram Setu" or a mythical bridge connecting India and Sri Lanka is a reality that is based on scientific evidence.
The Discovery Communications-produced show, "Ancient Land Bridge", quotes American archaeologists to say a 30-mile line between India and Sri Lanka is made up of rocks that are 7,000 years old, older than even a sandbar supporting them, which is 4,000 years old. The promo claims that the structure is not natural but man-made, citing images from a NASA satellite,.
Smriti Irani, the Union Information and Broadcasting Minister, retweeted the promo video with the caption "Jai Shri Ram"; since it was posted earlier this week, the promo has been viewed 3.5 million times on Facebook and has over 230,000 views on Twitter.
Are the ancient Hindu myths of a land bridge connecting India and Sri Lanka true? Scientific analysis suggests they are. #WhatonEarthpic.twitter.com/EKcoGzlEET

— Science Channel (@ScienceChannel) December 11, 2017
It is the belief of millions of Hindus that the Ram Setu was built by Lord Ram with help from an army of monkeys, to rescue his wife Sita from the demon king Ravana, described in the epic Ramayana.
Union Minister Ravi Shankar Prasad today said the show reaffirms that belief. He tore into the previous Congress-led UPA government for its stand.
In 2007, then union minister Kapil Sibal of the Congress had said that there is no scientific evidence to prove the Ram Setu is manmade but argued that people's faith should be respected. This was the government's submission in the Supreme Court, which was hearing a petition against a project to set up a shipping channel between India and Lanka.
Amid protests, the Congress-led government withdrew its affidavit in court.
"Those who filed the affidavit should explain now. The research has supported what the BJP has been claiming all along...The setu is part of our cultural heritage," Mr Prasad said.
Minister of State for Home, Kiren Rijiju, also said: "This is what the BJP has been saying all along."
The Science Channel trailer quotes studies and scientists from Indiana University Northwest, University of Colorado Boulder, and Southern Oregon University.
Earlier this year, the Indian Council of Historical Research announced underwater studies at the spot.