Highlights
Mayawati's party man cross votes for BJP-backed candidate
BSP needs 19 votes to win one Rajya Sabha seat
Uttar Pradesh: There are 11 candidates for 10 Rajya Sabha seats
Lucknow:
The race for a single Rajya Sabha seat in Uttar Pradesh became a thriller on Friday as Mayawati faced the maneuvers of a BJP out for revenge after she helped the Samajwadi Party (SP) win two of its safest parliamentary seats just days ago.
Mayawati, with 18 lawmakers, struggled to win the one seat her candidate is contesting, as her own party man cross-voted for the BJP and a few other votes turned out to be a no-go.
Anil Kumar Singh
, declared that he had cross-voted. "
I am with Maharaj-ji
(Yogi Adityanath)," he said.
The counting of votes was stalled for some time as the SP and Mayawati's party complained against Mr Singh and Nitin Agrawal, who also had cross-voted. The Election Commission asked for security camera footage after both parties alleged that the lawmakers had not displayed their ballots to party agents, as is the rule after voting.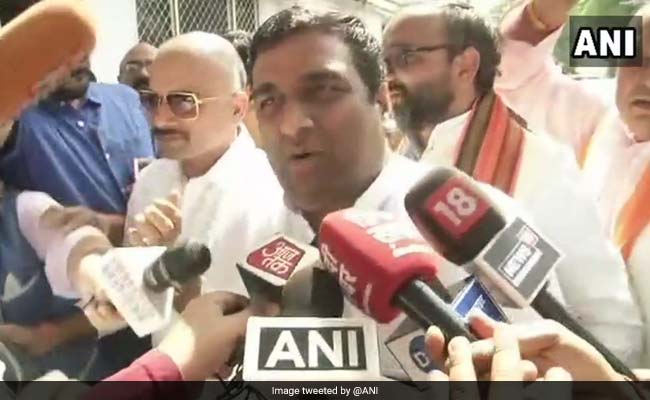 There are
11 candidates for the 10 Rajya Sabha seats
and 37 first preference votes are needed for each seat. The BJP has enough lawmakers to win eight seats comfortably and the Samajwadi Party has enough to win one. Mayawati would have won the tenth seat but for a BJP candidate entering the mix.
Mayawati's candidate needs 19 votes to win. As part of a deal that helped the Samajwadi Party (SP) win the two BJP Lok Sabha seats, Mayawati's candidate gets surplus SP votes.
The BSP was also counting on two independent lawmakers. Two of them are Raja Bhaiyya, who was jailed by Mayawati in the past, and the other is his aide Vinod Saroj, who is believed to have voted the BJP. The third is Aman Mani Tripathi, who was sidelined by the SP. After voting, he called Yogi Adityanath his mentor.
Raja Bhaiyya announced that he would support SP
, not the party of Mayawati, who had jailed him once. Alarming both parties, he cast his vote in the assembly and promptly walked to Yogi Adityanath's office. He claimed it was a "courtesy call", nothing to do with his vote.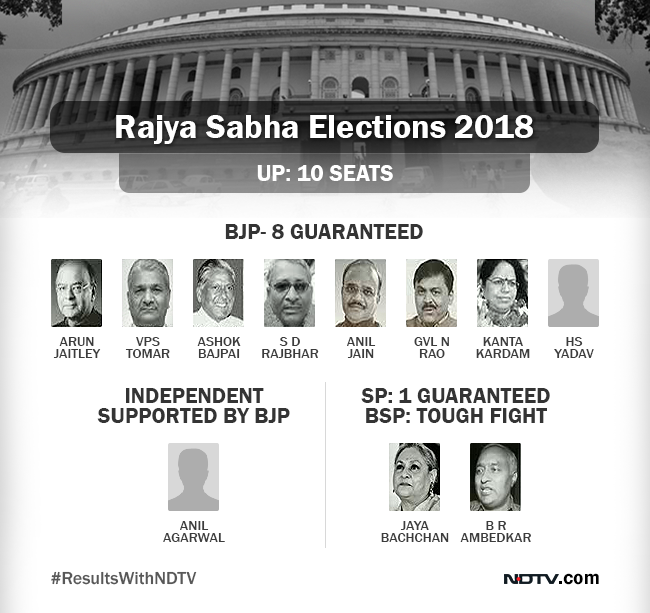 If the Samajwadi Party prioritises its deal with Mayawati for the bypolls - which could set the stage for a larger alliance for the 2019 national election between the rivals - Akhilesh Yadav may get his lawmakers to send Mayawati's nominee to the Rajya Sabha. In that case, SP's own candidate Jaya Bachchan faces a challenge.
The BJP need eight votes to win the ninth seat. Samajwadi lawmaker Nitin Agrawal has voted for the BJP. His father Naresh Agarwal recently switched from SP to BJP after being passed over for Jaya Bachchan.
The BJP's ally Suheldev Bharatiya Samaj Party (SBSP) - which is upset with Yogi Adityanath - has pledged the support of its four lawmakers after being placated by BJP chief Amit Shah. The Apna Dal claimed that its nine legislators had voted for the BJP.