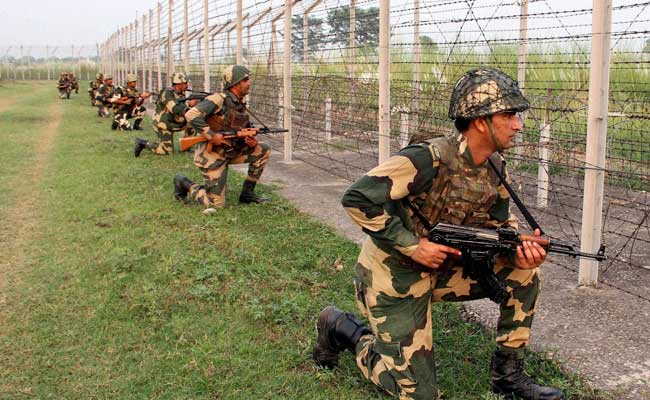 Bikaner:
Home Minister Rajnath Singh today said technological solutions in border security, which were being implemented by India, would eliminate the need for a soldier to stand guard round-the-clock to protect the borders.
He said a comprehensive integrated border management system was being implemented by the government to strengthen border security and a pilot project under the system was launched in Jammu.
"We want that such technological solutions be used where there is fencing because it gets damaged after some time. This will ensure a complete border security," Mr Singh said while addressing BSF soldiers in Rajasthan's Bikaner.
"We are going to implement this too... this will take time but our soldiers will not have the need to stand guard constantly round-the-clock on the border for protection," he said.
Rajnath Singh said there would be a command and control centre where the soldiers would monitor activities on the border.
"They will get to know if any intruder is entering India and the nearest border outpost will be alerted by the command and control centre and security will be ensured," he said.
Mr Singh said the people of the nation had faith in the BSF soldiers and it had increased rapidly recently. He also claimed the Pakistani rangers were jittery due to the BSF.
Mr Singh said he had seen their hard work when they guarded borders and also in Maoist and terrorism-affected areas.
"You have a feeling of national respect which inspires you. It was the feeling which had inspired Chandra Shekhar Azad, Bhagat Singh and Khudiram Bose to fight for the freedom of the country," he said.
He was speaking after the worship of weapons or 'Shastra Pujan'.
Rajnath Singh said there would be no need to use weapons if the neighbouring country stopped using them.
Highlighting the significance of Dussehra, he said Rama was worshipped on the occasion instead of Ravana, who was rich, powerful, intelligent, because it was "character" which made a difference.
Senior BSF officers were also present on the occasion. The minister is also scheduled to visit the Indo-Pak International Border during his visit to the border district.
Rajasthan's four districts of Bikaner, Jaisalmer, Sriganganagar and Barmer share over a thousand-km-long border with Pakistan and are guarded by the BSF.