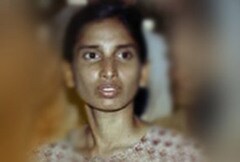 Chennai:
Nalini Sriharan, serving life sentence for the assassination of former prime minister Rajiv Gandhi on Wednesday, broke down as she was shifted back to Vellore jail where her husband, one of the three men on death row for the same crime, is lodged.
Nalini was moved under heavy escort to Vellore, around 120 kilometres from here.
Nalini made a request to be moved back to Vellore jail after President Prathiba Patil rejected the mercy petitions of her husband Sriharan alias Murugan, T. Suthendraraja alias Santhan and A.G. Perarivalan alias Arivu, set to hang for the 1991 assassination.
The three condemned men were linked to the Liberation Tigers of Tamil Eelam (LTTE). They were supposed to be hanged on September 9 but got a reprieve as the Madras High Court stayed their hanging for eight weeks.
Police and jail officials in Vellore told the media that Nalini broke down while entering the special prison meant for women convicts.
She was shifted last year in June to the high security Puzhal prison here from Vellore after she alleged that prison authorities were trying to poison her food.
She also complained that jail authorities were preventing other inmates from interacting with her.
Soon after her complaint, Vellore prison officials raided Nalini's cell and seized a mobile phone and SIM cards.
Rajiv Gandhi was killed by a suicide bomber at an election rally near Chennai May 21, 1991. Fourteen other people also lost their lives in the blast.
Nalini was earlier given the death sentence. On the intervention of Rajiv Gandhi's widow and now Congress president Sonia Gandhi, the sentence was commuted to life imprisonment.