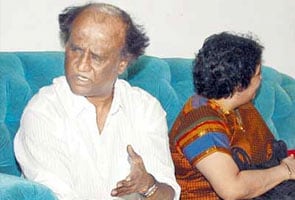 Bangalore:
Rajinikanth's frequent hospital visits lately have fuelled many rumours about the superstar's health. His much awaited film Rana is being shelved for the moment.
A family source of the actor said he was not expected to shoot for the film. Soundarya Rajinikanth, the star's daughter, who is also the producer of the film, said, "Our top priority is my father's health.
We are not even thinking of the film at this moment. We can reschedule plans once he recovers completely."
Deepika Padukone plays the female lead opposite Rajinikanth in a period film which would be shot in Tamil and Hindi simultaneously.
Director K S Ravikumar is understood to be depressed by the developments and remained unavailable for comment.
Rajinikanth was taken to Isabella Hospital in Chennai on April 29 which is the same day the film went on floor after he complained of exhaustion and vomiting.
He was discharged after being hospitalised for about 10 days, but was again admitted to Ramachandra Medical Centre on May 14.
Satyanarayana Rao Gaikwad, the actor's elder brother, had maintained that Rajini was admitted as a result of a strict diet regime in order to slim down, which caused minor complications.
In addition, rumours were rife that the super star was suffering from withdrawal symptoms, after giving up alcohol, coupled with drastic weight loss and change in diet.
However, Gaikwad told MiD DAY yesterday that his brother was suffering from a lung infection and liver related problems.
"As you know, Rajini was a chain smoker and had a drinking habit. The doctors have identified some problems in his lungs and liver," he said.
Gaikwad said that doctors have advised total bed rest and it would be at least six months before Rajinikanth would be in a condition to commence shooting. "There were suggestions that he should be taken to the US and we are considering it," he added.
But he refuted the rumours about cancer and liver sclerosis. "I don't think the condition is so serious. Instead of speculating about his health, let us pray for his speedy recovery," he concluded.
In a bulletin released yesterday, Ramachandra Medical Centre said that the superstar had been admitted for recurrent respiratory infection and gastro intestinal problems. Rajinikanth had been advised complete rest by the team of doctors attending to him.
"He is cheerful and is being treated in the private ward. His vital parameters are normal, but he has been advised to restrict contact with visitors to avoid infections," said Nallamuttu, public relations officer of the hospital.
While Rajinikanth congratulated Jayalalithaa for her stupendous victory in the Tamil Nadu state elections, the new CM tweeted, "The swearing in ceremony was nice. I wish Rajinikanth's speedy recovery. I want to visit him in the hospital."
His daughter, Aishwarya said, "Dad is happy for Jayalalithaa and that's why he sent us to convey her best wishes. She added, "He is fine. Don't believe rumours."
Gujarat Chief Minister Narendra Modi and Former Andhra Pradesh Chief Minister N Chandrababu Naidu, who were in Chennai for Jayalalithaa's swearing in ceremony, visited the actor in hospital.