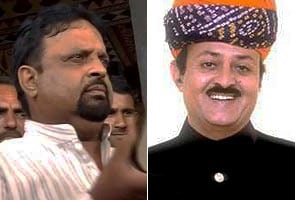 Jaipur:
In the shoe-for-a-shoe saga, a Rajasthan BJP MLA has got the boot.
BJP MLA Bhawani Singh Rajawat has been suspended for a whole year after a study of video footage from Assembly proceedings yesterday showed that it was he who flung a woman MLA's slipper at the Treasury benches.
During a heated debate on corruption on Monday, BJP MLA Pramila Kundara accused Congress MLA Raghu Sharma of land-grabbing. Other women MLAs of the BJP raised slogans and Mr Sharma made the sexist remark, "This is the Vidhan Sabha, not a ramp for modeling."
As both sides argued loudly, a woman's slipper came flying from the Opposition benches towards the Congress benches. Not to be outdone, Mr Sharma took off his sneaker and waved it at the BJP MLAs, though he did not throw it.
Who threw the slipper?
Mr Sharma was sure it was Mr Rajawat. Video footage proved him right - it was the BJP MLA who borrowed a colleague's slipper as ammunition.
The Congress MLA took away his find with him. "This is the slipper that was thrown. It was flung by BJP MLA Bhawani Singh Rajawat at me inside the House,'' Mr Sharma said, holding aloft the footwear that started it all.
The House was adjourned several times over the incident.