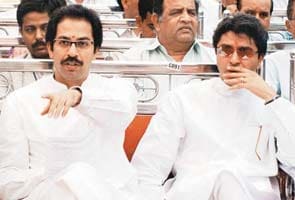 Kolhapur:
Ending his silence after nearly two weeks, Maharashtra Navnirman Sena (MNS) chief Raj Thackeray today rejected an offer from Shiv Sena president and cousin, Uddhav Thackeray, to form an alliance before the 2014 Maharashtra assembly elections.
The snub came at a well-attended rally in Kolhapur where Raj chose to make the announcement. "I do not wish to form an alliance with anyone," he said.
In an interview in his party mouthpiece, Saamna, when asked if the two warring cousins could form an alliance, Uddhav said that the MNS was welcome but this question had to be asked to both of them when together. Raj had then refused to comment.
Today, he taunted Uddhav for reaching out through the interview. "After Balasaheb died, I have not spoken. What do I say? And then the papers started running interviews. Will you clap? You extend a hand. Then you withdraw. Is this the kind of news to be printed in newspapers," he asked the crowd in his conversational style.
Keeping a window open for the future, he however added, he still hadn't taken a final call. "I have not thought about whether we should come together and have an alliance or not."
Though the rapprochement between the two Thackerays was welcomed in political circles, it was known that it would be far more difficult to convince them to form a political alliance. Expectations rose when Raj - on the instructions of late Bal Thackeray - rushed to the side of an ailing Uddhav at the Leelavati Hospital in Mumbai, where the Shiv Sena leader was admitted following a heart ailment. Raj also visited Matoshree, the Thackeray household, several times during Bal Thackeray's last days.
However, the bonhomie seemed only circumstantial. Last November, when the Sena patriarch's body was being taken to the Shivaji Park in Dadar for his final rites, Raj suddenly left the procession as he felt ignored by Uddhav since he wasn't allowed to mount the vehicle carrying the body. Though, he returned and attended the funeral, since then the two haven't met.
Out of power for nearly 15 years, the opposition openly says that they stand a better chance to oust the scam-tainted Congress-NCP government in Maharashtra, only if the two cousins bury the hatchet and form an alliance along with the BJP and the Republican Party of India (Athavale).
The BJP - which was hopeful that a merger would take place - says wait and watch. "This is like Mahabharata. Even Krishna couldn't make peace between warring brothers. But wait and watch. This could well change before the elections when reality hits the Thackerays," a senior BJP leader told NDTV.