Highlights
First Ayodhya visit by Gandhi family member since Babri Masjid demolition
Rahul Gandhi first visited Hanuman Garhi temple, then drove to Faizabad
Rahul is on an extensive UP campaign ahead of elections next year
Ayodhya, Utta Pradesh:
Rahul Gandhi spent 20 minutes in Ayodhya on Friday morning, in the first visit to the Uttar Pradesh temple town by a member of the Congress's first family since the demolition of the Babri Masjid in December 1992.
The Congress vice president drove straight to the famous Hanuman Garhi temple, where he offered prayers, before meeting the mahant or top priest. He then drove straight out of town to twin city Faizabad, where he will hold a roadshow.
Mr Gandhi, 46, skipped a visit to the Ram temple at the disputed Ramjanmbhoomi-Babri Masjid site, about a kilometre away.
"Rahul came and sought our blessings...we told him we sadhus have no religion and no slant and that he is most welcome here," said Mahant Gyan Das, the temple's chief priest.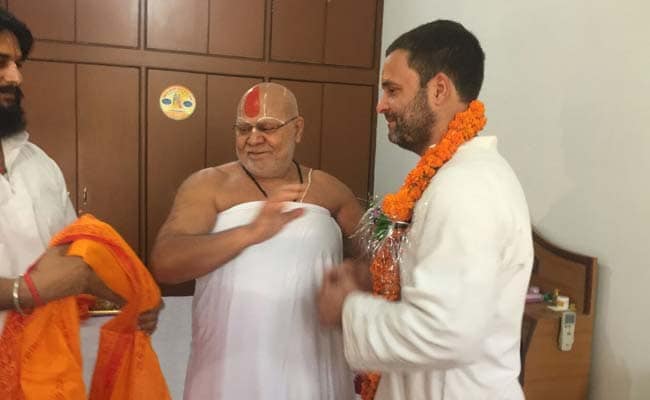 Critics and political rivals have called it a "political visit" as the Congress vice president attempts to lift his party's fortunes in UP, where elections will be held early next year.
They detect a soft Hindutva agenda in the Ayodhya visit with the Congress following a Brahmin-centric campaign in Uttar Pradesh.
Congress president Sonia Gandhi's visit to Varanasi last month had to be cut short before she visited the Kashi Vishwanath temple, as she fell ill. Mrs Gandhi has not visited Ayodhya since 1992, though she has visited Faizabad, 7 km away, several times for election campaigns.
Her husband and former Prime Minister Rajiv Gandhi had on a visit to Ayodhya in 1990, planned to offer prayers at the Hanuman Garhi temple, but could not because of lack of time. He was assassinated the next year.
Before Rahul Gandhi arrived, Pran Nath Saini, who has sold flowers outside the Hanuman temple for 30 years, said, "This is all politics. Why hasn't anyone from the Gandhi family visited for over two decades?" He predicted that the visit would accrue no political advantage for the Congress.
"Please don't bring any politics into this. The Congress stands for all religions," a local party leader Qutubuddin had said on Thursday.
The Congress strategy is UP is to win its original constituencies of Muslims, Brahmins and a section of the non-Dalit Other Backward Castes (OBCs). It had last won UP 27 years ago.