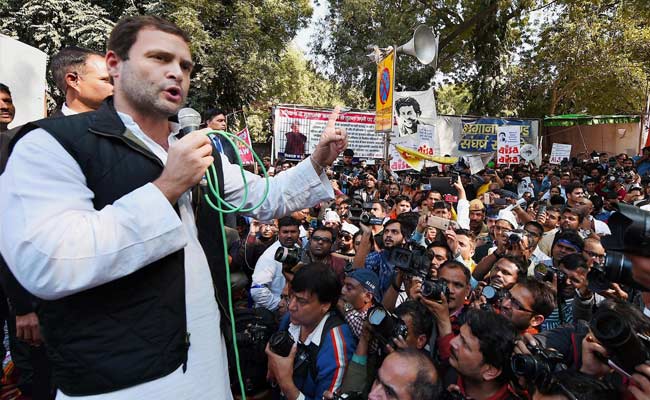 New Delhi:
Rahul Gandhi today led his Congress party on a day's fast at Mahatma Gandhi's memorial Rajghat in Delhi in what the Congress called an attempt to "promote communal harmony" and to protest clashes during the Dalit protests on April 2. Accusing PM Modi and his government of being "anti-dalit" the Congress president declared that his party would defeat the BJP in the 2019 national election.

"The atmosphere that has been created in the country, it is due to the ideology of the BJP. The BJP's ideology is to divide the country, crush the Dalits, tribals, minorities... We are against the ideology of the BJP. We are standing against it today, we will stand against it throughout our lives. And we will defeat them in the 2019 elections," Rahul Gandhi told reporters.

The daylong Congress campaign was also aimed at highlighting the government's "failures" linked to the recent exam paper leak, the bank scam and the wasted parliament session, which ended without much work amid repeated disruptions.

The Congress announced its protest fast soon after the ruling BJP announced a fast by its parliamentarians on April 12, blaming the opposition party and its leader Sonia Gandhi for blocking parliament.
The Congress has also been targeting the government over the Dalit protests. A week ago, Dalit groups called a "
Bharat Bandh" against a Supreme Court
order that they thought weakened a law meant for their protection against atrocities.
"We are praying for togetherness and for brotherhood, for all religions and castes in the country so that we can send out a message that all Indian are one and there is no division on caste basis," said Congress leader Ajay Maken.
The government asked the Supreme Court to review its order the same day the protests raged across the country. Its review petition will be taken up after the court receives responses from everyone concerned.
The Congress alleges that the government acted belatedly in support of Dalits and says the community has suffered discrimination and attacks in the past four years of the Narendra Modi government.