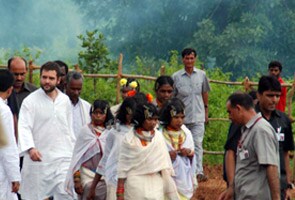 New Delhi:
Rahul Gandhi today signalled plans to carry out "drastic and lasting changes" in the working of the Congress ahead of a series of elections, including the Lok Sabha polls in 2014.
After giving a patient hearing to the All India Congress Committee Secretaries narrating their woes, the Amethi MP, whose Lok Sabha bio-profile describes him "strategy consultant" by profession, remarked that no one appeared happy about the state of affairs in the organisation and "we have to rectify" the situation.
"No one appears happy about the system as they feel it is unfair and that there are no rules and regulations and, therefore, there is uncertainty and we have to rectify the situation", Mr Gandhi was quoted as saying by party leaders during the two-hour-long meeting with AICC office bearers.
Mr Gandhi yesterday began his first formal interaction with AICC office bearers as Vice President which saw lot of fireworks, blame game and complaints of one-upmanship.
The young leader today said that he would go into depth of issues raised by the leaders and work to set things right. An office bearer said that Mr Gandhi suggested that he was
for "drastic and lasting changes".
He said that the primary task right now would be to face the immediate elections in various states including Karnataka and try to rectify the overall problems after that.
Mr Gandhi made these remarks after an AICC secretary lamented "lack of coordination" in the party and the growing confusion as "no one is knowing what the other is doing".
With several office bearers yet to get a chance to have their say, he will be meeting them again on Monday.