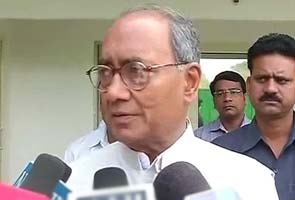 New Delhi:
Rahul Gandhi said last month that his focus was building his party, not to be prime minister. Congress general secretary Digvijaya Singh points out that this in no way means that Mr Gandhi has said no to being PM.
Mr Singh, often outspoken, said today, "He (Rahul Gandhi) has not said no anywhere. What is being reported in the press has caused some misconception. If the people of the country want, then why won't he (be the Congress' candidate for PM)?"
Many senior Congress leaders have reported a clamour in the party rank and file that Mr Gandhi be fielded as the party's candidate for PM in the 2014 general elections. But three weeks ago, Mr Gandhi sought to end constant speculation by telling MPs from his party at an impromptu meeting at the Congress office that the "Prime Minister's post is not my priority. I believe in long-term politics." The 42-year-old did not, however, comment on who would be named PM if the Congress should return to power for a third term.
In a television interview yesterday, Digvijaya Singh suggested that Mr Gandhi should not opt to nominate someone else as Prime Minister and keep charge of the party as his mother had done, if the party gets a majority in the next Lok Sabha polls. He said, "I personally feel that there should not be two power centres and I think whoever is the Prime Minister must have the authority to function, although Sonia Gandhi has really never interfered in the functioning of the government."
The Congress vice-president, Mr Singh said, "is mature enough to handle the intricacies of coalition politics."
Rahul Gandhi was formally appointed Vice-President of the Congress in January this year. Even before being escalated to this post, he was for years treated as the second-most influential member of his party, after his mother Sonia Gandhi, who is the party's president.