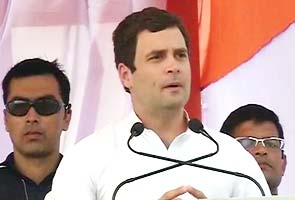 Rahul Gandhi addresses a rally in Gwalior. Here are the highlights:
Is there something more important than development? Yes, there is.
Respect is more important than development. MP govt does not respect its people
There are 2 types of government. Every government talks of development. It talks of roads and bridges.
BJP talks of development but they don't talk of people who walk on those streets.
We have changed the meaning of development in the last few years. We have given people various rights.
Leaders of 'shining India' won't understand all this. In thousand years for the first time no one in India will go hungry. Whenever we work for the poor they ask us where is the money?
Madhya Pradesh is the school of corruption. Rather it is the university of corruption.
When we talk of Land Acquisition Bill they stop us in the Parliament.
Not only the farmers, every one working on that land will be given money.
Till people from this crowd are in Lok Sabha and Vidhan Sabha, this country can't progress.
Must put youth and women in politics and clean up politics.



Rahul Gandhi earlier addressed a rally in poll-bound Madhya Pradesh's Shahdol.
Here are the highlights:
There are tribal women and youth here: Has this government respected the tribal?
I feel the most important thing for any govt is to respect its people
UNICEF report says more hungry people in MP than in Africa
When there is hunger, there can be no development
When Congress comes to power no matter who the Chief Minister is, tribal and the women will be respected in this state
They don't understand that there can be no development when people are hungry
They build roads, swanky cars travel on those roads and that is what they call development

If Congress comes to power, tribals will get respect and if someone disrespects them, we'll deal with them
BJP tried to block the food security bill for years and we fought for years

It was a historic bill that was passed in India - no one in the country will go hungry after the bill was implemented

Everyone is guaranteed food grains at Rs 1 - and who'll give you that guarantee - the Congress party
My mother refused to leave Parliament when the food bill was passed. She was ill but she was adamant that she wanted to vote in Parliament
I was upset that she did not want to leave - I tried stopping her but she went inside Parliament after a medical check-up
Voting was going on - I was adamant she should go to a hospital
I dragged her to a hospital - I called Priyanaka, told her our mother is refusing to leave

She was unable to breathe when she landed in the hospital and she had tears in her eyes
She said I fought for the bill and wanted to vote on it...I couldn't
These people don't want the aam admi, dalits, adivasis to not get into their ac rooms, in Lok Sabha , Rajya Sabha

2650 km roads were built by NDA in 5 years

9570 km was built by the UPA in 5 years

And yet when they talk of development, they talk of roads
We have to change Madhya Pradesh. The state is stuck. The Congress will change the state, we will empower the youth of the people
You want me to speak more (crowd says YES) I will be in trouble in Gwalior and I have to go to Datia too
I see one problem in India - for adivasis and women, there isn't adequate representation in assemblies and parliament