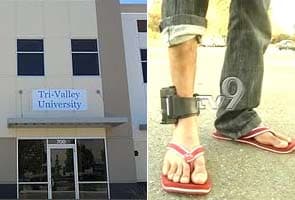 Hyderabad:
After video footage surfaced from Tri-Valley university campus suggesting Indian students were being radio-tagged as part of electronic surveillance by US immigration authorities, the Ministry of External Affairs has summoned the US deputy chief of mission. (Read: Radio-tagging 'sham' university students excessive: India to US)

In New Delhi, the Ministry of External Affairs in a statement said, "We have conveyed to the US authorities that the students, most of who are victims themselves, must be treated fairly and reasonably, and that the use of monitors on a group of students, who were detained and later released with monitors in accordance with US laws, is unwarranted and should be removed." (Read: Treat students fairly, India tells US)

The MEA added that the students should be given ample opportunity to clarify their position and present their case and those who wish to return to India should be allowed to do so voluntarily.

Reports suggest hundreds of students of Tri-Valley University face the prospect of deportation after the university was charged with immigration fraud.

The university is said to have 1,555 students. Ninety-five per cent of the students at Tri-Valley University (TVU) are reported to be Indian, most of them from Andhra Pradesh.

"The passports of the students have been impounded and the navigation device has been fit on their leg so the authorities can know where the student is at any point in time. So they will know if the student leaves the Bay area." Ashok Kolla, the Students' chairperson of the Telugu Association of North America told NDTV.

Students and families obviously worried about harming future prospects have not come out in the open to argue their case.

However, in a petition submitted by students of Tri-Valley University to the US authorities, students point out that they believed this was a bona fide and legitimate university as it was registered with the official Student and Exchange Visitor Information System database. Students plead that they should not be penalised with being deported from the country.


A group of students had also met Consul General Sushmita Gongulee Thomas on Thursday.
Maintaining that the fraud was done by the US University, Minister for Overseas Indian Affairs Vayalar Ravi today said "we requested the state department to take a lenient view because all the students are innocent."
Ravi said the Indian Consulate General there was in touch with the local authorities on the issue and they are waiting for a report and only then they will know what assistance should be given to the students.
The Tri-Valley University (TVU) in Pleasanton, a major suburb in San Francisco Bay Area, has been charged by federal investigating authorities with being part of an effort to defraud, misuse visa permits and indulge in money laundering and other crimes.
Investigations by the US Immigration and Customs Enforcement department (ICE) found that while students were admitted to various residential and on-line courses of the university and on paper lived in California, but in reality they "illegally" worked in various parts of the country as far as Maryland, Virginia, Pennsylvania, and Texas.
Tri-Valley University founder and head Susan Su, in an interview to the Fox News, denied of any wrongdoing.
"You talk about our income, but we do not do cheating. This is the standard we charge, with so many students, we never forced anybody to sign up with us," Susan was quoted as saying.