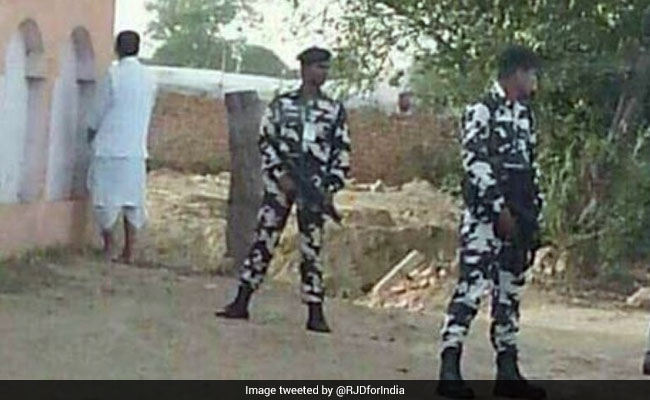 New Delhi:
Prime Minister Narendra Modi's Clean India campaign has received an enthusiastic response from the people. But one of his own ministers has been caught on camera letting him down. A couple of snapshots of Union minister Radha Mohan Singh urinating in public, flanked by securitymen, have been tweeted by Lalu Yadav's Rashtriya Janata Dal.
The undated snapshots have been accompanied by a post in Hindi, which read, "Surrounded by heavy security, Union minister for agriculture inaugurating the irrigation scheme. He also gave a boost to the Swachh Bharat mission".
कड़ी सुरक्षा के बीच केंद्रीय कृषि मंत्री सुखाड प्रभावित क्षेत्र मे सिंचाई योजना की शुरुआत करते हुए। उन्होंने स्वच्छ भारत अभियान को भी गति दी pic.twitter.com/BLbkpO8BPz

— Rashtriya Janata Dal (@RJDforIndia) June 28, 2017
The minister, who is from Bihar, had been on a visit to his constituency Motihari, for Eid. He returned to Delhi on Monday. According to reports, he said he had been forced to urinate on the roadside as there were no toilets in the area.
Bihar is one of the states that are lagging in the implementation of the Clean India campaign. Not only the number of houses having toilets is extremely low, it fares the worst -- along with Uttar Pradesh and Odisha -- regarding public toilet facilities.
On October 2, 2014, PM Modi had launched the Clean India campaign from Deli's India Gate. Since then, lakhs of common people had joined in. Brides have refused to marry till grooms built toilets in their homes, villages have paid for public toilets from their own pockets, Mumbai residents have cleaned up a beach through their own efforts, and in Delhi, a man had been beaten to death for trying to stop two men from urinating in public.
On Twitter, many took a jibe at the minister.
Best advertisement for Swach Bharat Abhiyaan by Minister Radha Mohan. Why waste thousand crores on TV ads, This is totally free n real swach pic.twitter.com/ka4BDaVyr8

— Singh Manoj K (@singhmk72) June 29, 2017
BJP Minister Radhamohan laying foundation stone of #SwachhBharat Abhiyaan. pic.twitter.com/BumwTGwdZf

— Jas Oberoi (@iJasOberoi) June 29, 2017
Other opposition parties, too, criticised the minister. "The minister is exposing the hollowness of swachata abhiyan launched by the PM from the ramparts of Red Fort," news agency Press Trust of India quoted JD(U) national spokesperson KC Tyagi as saying.