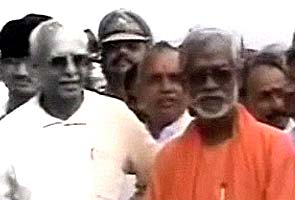 New Delhi:
Just days after letters allegedly written by Swami Aseemanand, who is in judicial custody in connection with the 2007 Samjhauta Express train blast case, to the Presidents of India and Pakistan, his lawyer and brother have denied any such letter.
Aseemanand's brother Sukumar has told NDTV that he did not receive any letter from him. And his lawyer said the language doesn't seem to be his clients.
His lawyer too denied that Aseemanand gave any letters to his brother.
Tehelka magazine had carried a report a few days ago which said that Aseemanand has written to President Pratibha Patil and Pakistan President Asif Ali Zardari admitting his 'crimes'.
In his letters, Aseemanand admitted change of heart after meeting a Muslim boy in prison and sought penance, the magazine said.
Aseemanand also sought meeting with Hafeez Saeed, Mullah Omar and transform them.
Also Read:
(
Read: Will Aseemanand's confession free 9 Muslims?
)