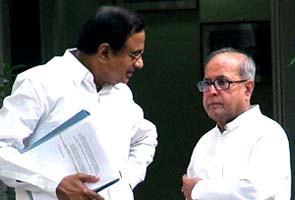 New Delhi:
The Finance Ministry's note on P Chidambaram's actions during the telecom scam proved itself hazardous in a whole new way today.
A Joint Parliamentary Committee or JPC that's studying the swindle expressed its anger today over the fact that the note has so far not been shared with it. The JPC has said it will summon Finance Secretary R Gopal Krishnan on October 12 to explain the note. And in a move that's more embarrassing for the government, the JPC has written to all ministries, including the Prime Minister's Office, asking them to guarantee that all documents relevant to the allocation of second-generation or 2G spectrum have been submitted for the committee's review.
The JPC was set up at the Opposition's insistence in March, and has 30 members, 20 from the Lok Sabha and 10 from the Rajya Sabha. Members of Parliament from the BSP and the BJP accused the government of deliberately keeping them "in the dark" by not sharing the controversial note that faults Mr Chidambaram.
Prepared in March by a bureaucrat, the note was sent to the Prime Minister's Office and suggests Mr Chidambaram should have insisted that spectrum be auctioned by A Raja, the former Telecom Minister who is now in jail for masterminding India's biggest scam. Mr Raja has been accused of ignoring advice from other ministers to auction spectrum. Instead, in 2008, he bundled the spectrum into mobile network licences that he sold for a pittance - 1600 crores each - to companies who did not meet the pre-requisites laid down by the telecom policy at that time.
The note that is critical of Mr Chidambram was accessed through a Right to Information application and submitted to the Supreme Court last week. It has allowed the Opposition to demand Mr Chidambaram be fired as Home Minister and investigated for the telecom scam.
The fact that a section of his own government has criticised Mr Chidambaram's policies has put the Congress in an awkward position, particularly because of reports that the note, "seen by" Pranab Mukherjee, exposes a rivalry between two of the government's senior-most ministers.
Both Mr Chidambaram and Mr Mukherjee met Congress President Sonia Gandhi separately last evening. Mr Mukherjee has been in damage-control mode, referring on multiple occasions to the Home Minister as "valued colleague" and "a pillar of strength" to the government.
Election Results for Lok Sabha Election 2019 will be out on May 23. Get the latest election news and live updates on ndtv.com/elections. Catch all the action on NDTV Live. Like us on Facebook or follow us on Twitter and Instagram for news updates from each of the 543 parliamentary seats for the election 2019