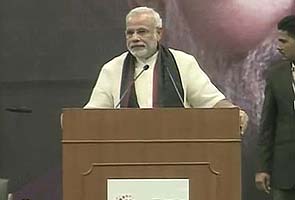 New Delhi:
As political rivals practically united to attack him over his "puppy (
kutte ka bachcha
)" remark,
Narendra Modi
, on Friday, suddenly found himself in the midst of a controversy of seemingly scandalous proportions. While his party, the BJP, determinedly defended him, the Gujarat Chief Minister's office too stepped in, saying there had been a "gross distortion" of his remarks that, in fact, displayed "a heightened sensitivity".
The genesis of the controversy lay in an interview with news agency Reuters where Mr Modi came up with the "puppy" analogy while talking about the deadly riots in his state in 2002.
"Even If I am in the back seat of a car and a puppy (
kutte ka bachcha
) comes under the wheels, isn't it painful? It is. Whether I am a chief minister or not, I am a human being - I will be sad if something bad happens anywhere," he had said.
(Read the full interview here)
In a matter of hours, it kicked a massive storm with parties, including Congress, slamming the Chief Minister's statement as "insensitive and reflective of his mindset" over the death of Muslims in the riots.
(Who said what)
But in a firm defence, Mr Modi's office, in a statement issued late on Friday, clarified, "In response to a question related to the unfortunate incident of 2002, Mr. Modi's response only shows a heightened sensitivity on his part where he chose an anecdote to explain the grief that a human being would experience on even the hurt of a dog. To talk about an incident that resulted in loss of human lives and not feel the grief is unthinkable."
Caught in the eye of the storm, the Chief Minister himself had earlier tweeted to say, "In our culture, every form of life is valued and worshipped." His party too strongly rallied around him, rejecting the entire controversy as "despicable" and one "created where it does not exist".
Get Breaking news, live coverage, and Latest News from India and around the world on NDTV.com. Catch all the Live TV action on NDTV 24x7 and NDTV India. Like us on Facebook or follow us on Twitter and Instagram for latest news and live news updates.