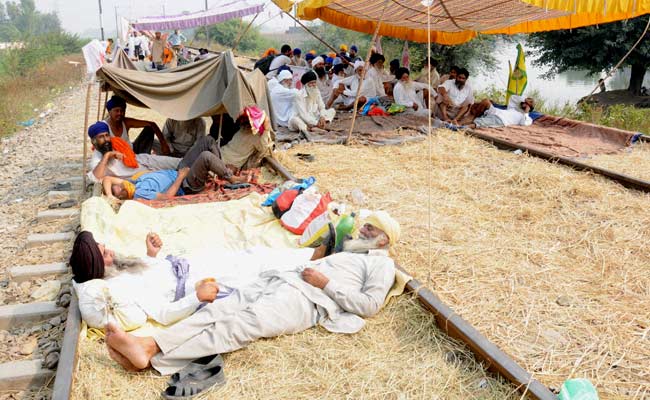 Chandigarh:
Rejecting ruling Shiromani Akali Dal's (SAD) appeal to call off their 'Rail Roko' agitation, which has paralysed train services, farmers' outfits today decided to extend their stir by another two days to press for their demands.
The agitation would be on till October 12, the date given by SAD for holding talks with Chief Minister Parkash Singh Badal to resolve their issues.
"Our core committee of eight farmers' outfits has decided to extend Rail Roko agitation till October 12," BKU (Ugrahan) General Secretary, Sukhdev Singh Kokri said.
"Our members have thought that if we call off our protest today then our demands may not be taken seriously by the state authorities. That is why we decided to extend our agitation to press the state government to accept our demands," he argued.
Mr Kokri further said that the ruling party had delayed in inviting farmers to hold talks with the Chief Minister.
The agitation, which began on October 7 and was extended, has affected the running of 53 trains, including 25 which were cancelled, in the last four days, railway authorities said.
Nine trains were diverted, while 19 others were short terminated or short originated by railway authorities.
As many as eight farmers' organisations including BKU Ekta (Dakunda), BKU Ekta (Ugrahan), BKU (Krantikari), Kirti Kisan Union are participating in Rail Roko agitation which began on October 7.
Earlier, ruling SAD invited the protesting farmers to hold talks with the Chief Minister on October 12 for resolving their issues.