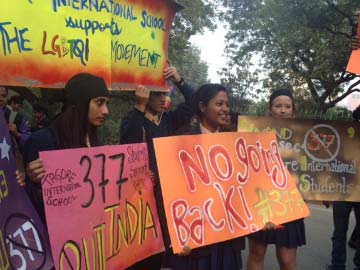 New Delhi:
From Bangalore to Delhi and Mumbai to Kolkata - 16 cities across India joined the global day of rage by holding symbolic protests against the Supreme Court verdict that once again criminalised homosexuality.
In Mumbai, filmmaker Nandita Das joined the protest saying: "If we keep quiet then for sure nothing is going to change so we have to speak up. When people come in such large numbers and mark their protests, it definitely means that people are disturbed by this kind of a verdict."
In the national capital, we caught up with Shibani, who came carrying her little son in her arms. She stood shoulder to shoulder in solidarity with scores of people gathered at Jantar Mantar. "This goes so beyond the LGBT community. It's certainly about human rights and dignity. I'm here because I don't want my son to grow up in a society which is unequal," she said.
In Kolkata, athlete Pinki Pramanik, who found herself in the middle of a controversy over her gender said, "I have come here to support people who are fighting for human rights."
These fears have become grave after the Supreme Court last week made homosexuality a crime, punishable by law.
"The Supreme Court order is regressive. Many are now in fear of false cases, threats, feeling extremely vulnerable. And imagine if this is the case in big cities, how difficult it must be to find support outside of urban centres," said Pratik in Delhi.
The protest comes with a clear message - there is no going back. But there is a sharp divide between different political parties; the Congress is in favour of amending the law, the BJP is opposed to it. Getting the draconian law amended anytime soon looks difficult as Parliament in caught in a tangle over Telangana and the Lokpal Bill among others. For the lesbian, gay, bisexual, transgender and queer individuals, it's been a tumultuous journey from being invisible to illegal, but they soldier on in the fight for dignity and equality.