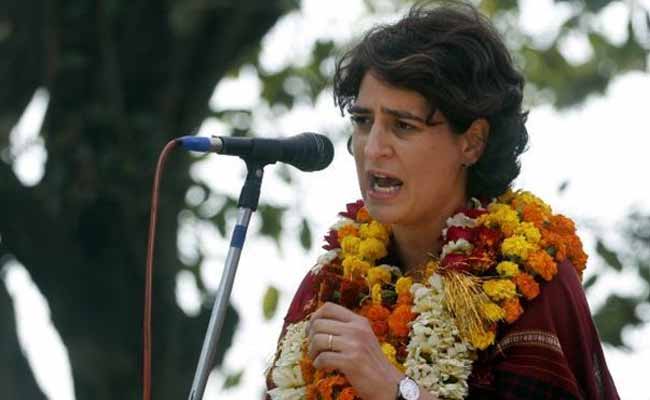 Highlights
Priyanka Gandhi on list of top Congress campaigners for UP
Party signals she will campaign only in Gandhi constituencies
Congress has acknowledged she is its decision-maker for UP
Lucknow:
Priyanka Gandhi Vadra, credited by the Congress for arranging an alliance in Uttar Pradesh with Chief Minister Akhilesh Yadav, is on a list of 40 star campaigners released by the party today.
In earlier elections, the 45-year-old daughter of Congress chief Sonia Gandhi has campaigned in the family constituencies of Raebareli and Amethi, but has not held rallies elsewhere. Sources said that this time too, she is likely to maintain those boundaries, though the party roster name-checks her as a speaker for the first set of constituencies that vote, which do not include the Gandhi strongholds.
The
Congress broke with tradition this weekend to out Priyanka Gandhi Vadra as the main negotiator in a partnership
that skidded towards collapse before being salvaged, allegedly by her direct talks with Akhilesh Yadav, who enjoys an easy rapport with her brother and Congress No 2 Rahul Gandhi.
When the alliance seemed wobbly over how many candidates the Congress would be allowed, media reports suggested that it was Sonia Gandhi who intervened to iron out the kinks. Her Political Secretary Ahmed Patel shot down that theory on Twitter, stating that it was Priyanka Gandhi Vadra and due respect was given to Akhilesh Yadav who was negotiating the alliance with the Congress.
Senior Congress leaders like Ghulam Nabi Azad have since acknowledged, with thanks, Priyanka Gandhi Vadra's big say in selecting the party's 105 candidates.
Sources in Akhilesh Yadav's party have said they would like Priyanka Gandhi Vadra to share stage space with his wife, Dimple Yadav, who is a member of parliament; but Congress leaders said that wish will not be fulfilled. Other Congress heavyweights who will be used for public meetings include her brother and mother as also former Prime Minister Manmohan Singh.
While campaigning in Amethi and Raebareli for the general election three years ago, Priyanka Gandhi Vadra denounced Prime Minister Narendra Modi and the BJP's allegations against her entrepreneur husband, Robert Vadra, over allegedly illicit land deals in states that were governed by the Congress. She asked voters to "avenge the humiliation of your son-in-law." The Congress went on to an embarrassing result, winning just two of the state's 80 parliamentary seats - the ones held by her mother and brother.
In the last state election in 2012, the Congress won a gaunt 28 of 403 seats. Of the ten seats in Raebareli and Amethi, the party won just two.
Prashant Kishor, hired as chief election strategist for the Congress, pushed early for Priyanka Gandhi as the party's presumptive Chief Minister, but failed to impress the party with his suggestion. Instead, it opted for 78-year-old Sheila Dikhsit who has governed Delhi multiple times. Akhilesh Yadav is now the alliance's Chief Ministerial candidate.