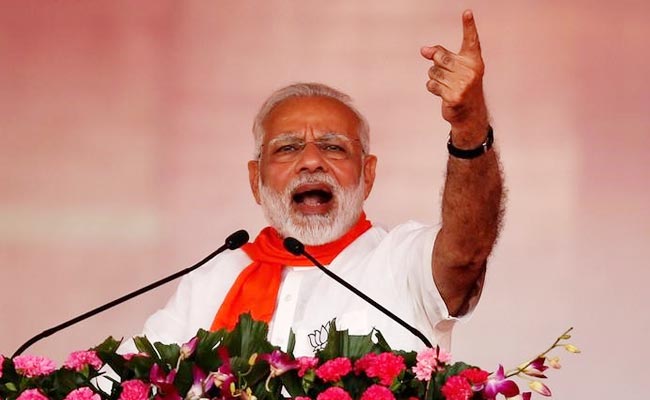 Ahmedabad:
As he kicks off the poll campaign in his home state today,
Prime Minister Narendra Modi
will address between 32 and 35 rallies in Gujarat in the next two weeks, where assembly elections will be held on December 9 and 14.
The Prime Minister begins his
campaign
today from Bhuj, a BJP stronghold that also has 33 per cent Muslim voters. Later in the day, he will address rallies in Jasdan town of Rajkot, Dhari in Amreli and Kamrej in Surat district. Amreli is dominated by the powerful Patel community, who the
BJP hopes
will continue to back it despite their recent displeasure over not being included in castes that get benefits of affirmative action.
The polling for the two-phase elections in the state, having a total of 182 assembly seats, will take place on December 9 and 14 and the votes will be counted on December 18. While 89 seats of Saurashtra and South Gujarat region will go to polls in the first phase, the election in the remaining 93 constituencies in central and northern regions will be held in the second phase.
Here are the live updates of PM Narendra Modi's visit to Gujarat:
While Congress is trying hard to strike a chord with the Patidar community in Gujarat, PM Narendra Modi said the party has disrespected the community.
"When Keshubhai Patel, a son of Saurashtra became the CM the Congress tried everything to dislodge him. They repeated the same disruptive tactic with Anandiben Patel, a daughter of the Patel Community. Congress has defamed Gujarat always," he said criticizing the grand old party.
"When Chimanbhai Patel begun to stand on his own feet the Congress got angry- why is he being independent? So they removed him as well. It was the BJP that supported Chimanbhai and both he and Keshubhai Patel worked together," he said and added, "It was with the support of the Jan Sangh that a person from the Patel Community, Babubhai Patel became CM. Congress did not like this and ensured that Babubhai Jashbhai's government did not last."