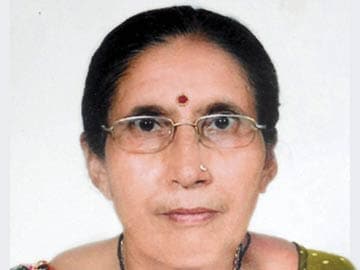 Palanpur:
Prime MinisterNarendra Modi's wife Jashodaben visited a temple in Vadgam taluka of Banaskantha districttoday and said that she prayed for her husband's long life as well as success.
The temple of Virbhadra Maharaj is located in Magarwada village, atleast 15 kmaway from Palanpur. In the month of Shravan, thousands of visitors from allover Gujarat visit this temple to get their wishes fulfilled.
Jashodaben said that she had a very old bond with this temple.
"I used to visit this temple regularly when I was posted here (as ateacher) during 1980s. Later, when I was transferred to Unjha, I could not comehere. Today I specially came here to pray for my husband. May god give him longlife, success and ability to serve the people of India," Jashodaben toldreporters after visiting the temple.
She said that she would visit the temple on every fifth day of each monthaccording to the Gujarati calender.
"Now, I havemade up my mind to visit this temple for 51times on each 'Pancham', startingfrom today," said Jashodaben, who was also accompanied by her brother AshokModi.
Ashok Modi thanked the Gujarat state government for providing round the clockpolice protection to them.
"I thank thegovernment for providing security. However, it is my humble request to thegovernment to provide some conveyance facility to my sister, who is veryreligious and visits such places frequently. It will a great help for her,"said Ashok Modi.