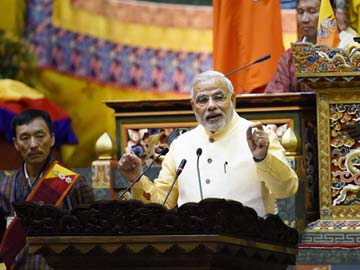 Beijing:
Prime Minister Narendra Modi's choice of Bhutan as his first foreign destination demonstrates his "pragmatism" to develop ties with neighbours and should not be exaggerated with "China factors", an article in a state-run daily in Beijing said today.
"Modi's trip to Bhutan should not be exaggerated and added with too many China factors," an article in the
Global Times
said.
"Bhutan hasn't established diplomatic relations with many countries, such as China or the United States," it said, referring to former Chinese Premier Wen Jiabao's attempt to sound Bhutan to open diplomatic relations during his meeting with his then counterpart Jigmi Thinley in 2011 at an international forum.
"Thinley also expressed a willingness to settle border issues with China in a cooperative manner. This has caused quite a stir in India which sees China as its arch rival in its neighbourhood," the article said.
"India's concern about China, if there is any, may be that it wants to see if there is any correlation between China's attitudes in solving border disputes with India and Bhutan," it said.
"Modi has made Japan his second stop. Given his choice of Bhutan as first foreign trip and Japan as the second, it is fair to say pragmatism dominates his agenda," considering that his focus is on economic development, the article said.
The biggest difference between Modi's election manifesto and that of the Congress party was that Modi focuses on economic growth and vows to learn business mode from foreign countries, it said.
In the past, the target of India's "Look East" policy was the Association of Southeast Asian Nations or ASEAN, and now it has shifted to Japan, which can provide the nation with investment and technology, it added.
Japan's nationalist Prime Minister Shinzo Abe also has plans to woo India. Some even view Modi as India's Abe and these two countries have no historical disputes, the article noted.
In the future, India may play a bigger role in regional frameworks such as the BRICS, the Shanghai Cooperation Organisation and the Conference on Interaction and Confidence Building Measures in Asia, the article said.
"All in all, that Modi puts neighborhood politics on a more positive trajectory, and his balancing act among major regional players reaffirms his reputation for pragmatism," it said.