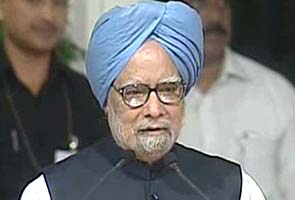 New Delhi:
Prime Minister Manmohan Singh will leave today on a five-day visit to Russia and China, both permanent members of the UN Security Council and important global players, in what could be his last major foreign tour before general elections expected in the first half of 2014.
While energy, defence and trade are expected to top his agenda in Moscow, an agreement to prevent face-offs along their disputed frontier and ramping up trade and investment are on the anvil for Beijing.
The back-to-back visits come even as the opposition BJP has been raising the pitch seeking a probe in the prime minister's alleged involvement in a scandal involving distribution of coal mining licenses.
The Moscow visit from October 20 to 22 would see the prime minister attending his 10th India-Russia Annual Summit and the fifth one in Moscow. His summit meeting with President Vladimir Putin on Monday comes as both countries are working out a "techno-commercial" agreement on the third and fourth reactors for the Kudankulam Nuclear Power Plant in Tamil Nadu.
Both sides would discuss energy cooperation as Russia is known to have one of the largest hydrocarbon reserves. OVL, the external arm of India's ONGC, has investments in the Sakhalin oil fields and in Tomsk. India is seeking to tap the vast oil and gas reserves in Russia's Far East and the Arctic zone.
The prime minister would also be conferred a honorary doctorate by Moscow's Institute of International Relations. Both sides are expected to ink several agreements, including one on the exchange of convicted and sentenced persons.
Russia is also seeking the outcome of the probe into the sinking of the submarine INS Sindhurakshak last month, an informed source told IANS. The Russian-made Kilo class sub sank after on board explosions, killing 18 people.
In Beijing, on the second leg of his visit, the boundary issue would be in focus, including a Border Defence Cooperation Agreement which aims to prevent face-offs between troops of both sides along the 4,000-km boundary they share.
Foreign Secretary Sujatha Singh, during a briefing Friday, stressed that maintenance of peace and tranquility on the boundary is an "important factor" of India-China bilateral relations and forms the "fundamental basis on which the rest of the bilateral relations can progress".
The issue of Beijing issuing stapled visas to two archers from Arunachal Pradesh is likely to figure in the talks between the prime minister and his Chinese counterpart Li Keqiang. The foreign secretary said Friday that while both sides need to be given more time to resolve boundary issues, "we want to reiterate that Arunachal Pradesh is an integral and inalienable part of India".
India is also concerned about China's plans to build two 1,000MW nuclear reactors in Pakistan. The adverse trade deficit, which stands at $39 billion, is another issue causing concern to India. New Delhi is seeking wider access, including for pharmaceuticals and IT, to Chinese markets.
President Xi Jinping is to host a banquet in honour of the prime minister on Oct 23.
On Oct 24, the prime minister would address the Central Party School of the Chinese Communist Party. He would also meet former premier Wen Jiabao with whom he shared a special relationship.