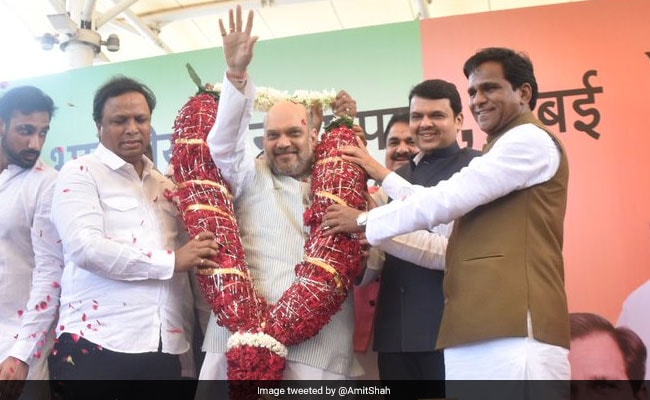 Mumbai:
Ahead of his Sunday meeting with ally and Shiv Sena chief Uddhav Thackeray, Amit Shah visited the Bal Thackeray memorial. His first visit to the memorial also happened to be his first stop after landing in Mumbai this morning. The Sena, however, skipped the political courtesy to welcome Mr Shah at the party founder's memorial at Shivaji Park.
Mr Shah is in the city to formally seek Sena's support for the Presidential candidate for the NDA - a contentious issue since
the party has indicted that it might vote "independently" in the Presidential elections
.
In the last two elections - in 2007 and 2012 - it had supported UPA candidates Pratibha Patil and Pranab Mukherjee. This time, the Sena is rooting for Mohan Bhagwat - the chief of BJP's ideological candidate Rashtriya Swayamsevak Sangh or the RSS. The BJP had maintained silence on the idea and Mr Bhagwat had nixed it.
With its 18 parliamentarians and 63 legislators, the Sena has control over 25,893 votes of the presidential collegium. If it chooses to support the BJP, it could help the NDA candidate to get elected comfortably. The BJP has also reached out to the opposition. Central ministers Rajnath Singh and Venkaiah Naidu have met Congress chief Sonia Gandhi this morning. In the afternoon, the
three-member team formed to develop consensus on a Presidential candidate
will meet CPM's Sitaram Yechury.
Mr Shah, during his three-day visit, will also meet party lawmakers, legislators and BJP ministers, which is part of his 90-day effort to boost the party's presence across the country. Maharashtra is crucial to the BJP's strategy as the party is trying to reduce its dependence on the Sena that is constantly threatening to unhinge the government in the state.
For complete coverage on Presidential elections, click
here
.