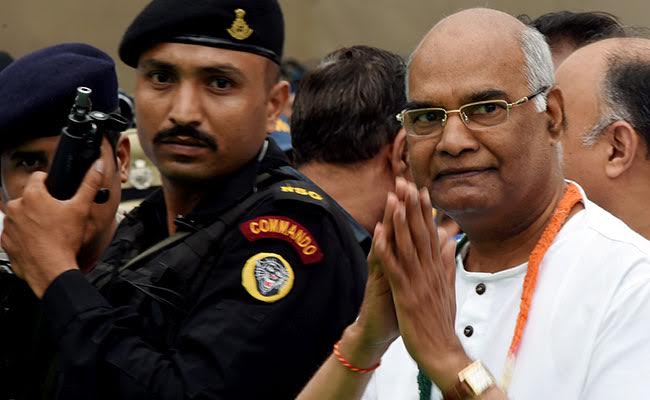 New Delhi:
On the day when lawmakers voted to elect India's next President, Union minister M Venkaiah Naidu said the National Democratic Alliance's presidential candidate Ram Nath Kovind will win with a "comfortable" margin. "Kovind-ji will win with a respectable and comfortable margin," Mr Naidu told reporters.
Mr Naidu, however, declined to comment on the BJP parliamentary board's meeting to choose the ruling alliance's vice presidential candidate.
Union Minister Ravi Shankar Prasad said Mr Kovind will see a "
decisive victory
". "It would have been better if there was consensus. But no issues," he said.
Congress leader Ghulam Nabi Azad said the fight between Mr Kovind and the United Progressive Alliance's candidate Meira Kumar was "one of ideologies". "The president should be a person pursuing an ideology under which everybody should be equal for him. And when there is a clash of ideologies, I think our candidate is the best," said Mr Azad, leader of opposition in Rajya Sabha.
Communist Party of India (Marxist) General Secretary Sitaram Yechury asked the voters to pick the "custodian of the Constitution" thoughtfully. "Hope the electoral college picks the custodian of India's Constitution thoughtfully... Vote to uphold constitutional values of our republic," Mr Yechury tweeted.
Congress leader Mallikarjun Kharge asked the lawmakers to vote according to their "inner conscience". "We believe in democracy and that's why we are contesting. All the voters, including those from the BJP, should also vote as per their conscience," Mr Kharge said.
Bahujan Samaj Party chief Mayawati said she is happy that both the presidential candidates were Dalits. "Winning or losing is a different issue. Whoever wins, the good thing is a Scheduled Castes person will be the country's president. And I think it is a good thing for our movement," Ms Mayawati told reporters outside parliament.
The result of the presidential election will be declared on July 20.
Follow detailed coverage on Presidential Election 2017 here