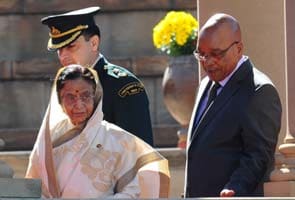 New Delhi:
The government today said that a controversy over President Pratibha Patil's family members accompanying her on an official trip abroad is needless.
The President is on a nine-day state visit to the Seychelles and South Africa. Her two grand-children are with her.
"It's normal diplomatic practice that a visiting Dignitary occasionally takes members of his/her family on trips. Hospitality for such visiting dignitaries in such cases is usually provided by the host government. It is not abnormal," said the spokesperson for the Ministry of External Affairs, Syed Akbaruddin.
Citing several examples of visiting heads of states travelling with their family members, he referred to the fact that Pakistan President Asif Ali Zardari was accompanied by his son Bilawal on a recent trip to New Delhi.
President Patil's foreign trips have generated debate recently because a Right to Information application revealed that since she took office in 2007, Rs 205 crore has been spent on her travel expenses, surpassing the record of all her predecessors.
During her tenure, President Patil has undertaken 12 foreign trips, covering 22 countries across four continents and spending 79 days abroad.
RTI applications have shown that Air India spent more than Rs 169 crore on the use of chartered aircraft, always a Boeing 747-400, for the President's trips. An additional Rs 36 crore has been spent by the Foreign Affairs ministry on her accommodation, local travel, daily allowance and "miscellaneous" expenses.
Former President APJ Abdul Kalam undertook seven trips to 17 countries during his five-year tenure.
The President's spokesperson Archana Datta said, "Family members accompanying the President is no breach of protocol. Most of the Presidents have travelled with their family members and guests in the past. It is also a reciprocatory gesture. These are normal courtesies being extended in diplomatic relations," Datta said.