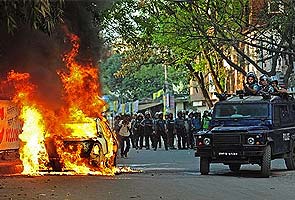 Dhaka:
President Pranab Mukherjee is on a three-day state visit to Dhaka today, seeking to convey India's commitment to sort out unresolved issues between the two nations. His visit, however, comes as Bangladesh is witnessing massive clashes after a top Islamist opposition leader was sentenced to death for his role in atrocities, including rape and killings, during the 1971 Freedom War.
The clashes, between people celebrating the death sentence for the war crimes and supporters of the convicted Jamaat-e-Islami chief Delwar Hossain Sayeedi, have left 60 people dead since Thursday, including four today.
The Jamaat-e-Islami has called for a nation-wide general strike for today and tomorrow in protest against the war crimes trials supported by the Sheikh Hasina government in which some of its top leaders have been sentenced to death. The Jamaat is an ally of Bangladesh's main opposition Bangladesh Nationalist Party, which is led by former Prime Minister Khaleda Zia, and was a partner in Zia's government from 2001 to 2006.
Opposition leader Begum Khalida Zia has also called for a strike on Tuesday. So Bangladesh is expected to remain shut on all three days of President Mukherjee's visit.
President Mukherjee is expected to meet Bangladesh President Mohammad Zillur Rahman, Prime Minister Sheikh Hasina and leader of the Opposition Khaleda Zia. He will also receive the Bangladesh Liberation War Honour Award for his contribution to country's liberation war and also an Honorary Doctorate of Law from the University of Dhaka.
Both countries had last month inked an extradition treaty, a liberalised visa agreement, and also exchanged maps of the demarcated stretches, in accordance with the Land Boundary Agreement (LBA) of 1974.
Both the nations are also to launch a rail link between Akhaura in Bangladesh and Agartala in Tripura. They have also inked MoUs on several issues, including amending the double taxation avoidance treaty and for opening additional border haats (markets) in Tripura and Meghalaya.