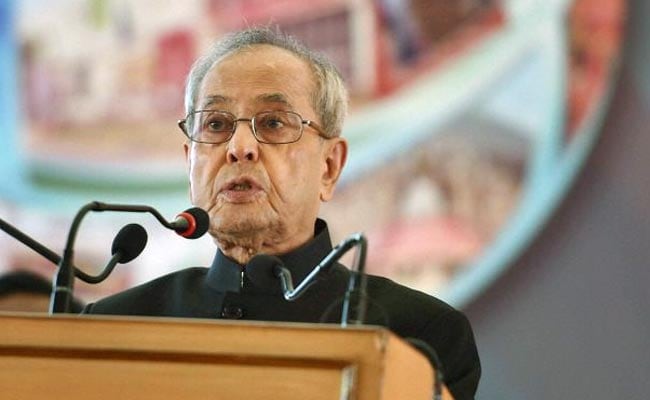 Beijing:
President Pranab Mukherjee will travel to China next month setting off a series of high-level bilateral visits as the two countries seek to deepen their engagements despite irritants in ties over issues like Beijing blocking India's bid to get a UN ban on JeM head Masood Azhar.
President Mukherjee's visit was announced by National Security Advisor Ajit Doval when he called on Chinese Premier Li Keqiang in Beijing today.
"We have had a series of interactions in 2015. We are looking forward to the visit of President of India shortly next month," Mr Doval, who wrapped up his two-day visit to attend the 19th round of border talks with China, said in his opening remarks during his meeting Li.
Dates for the visit, expected to take place next month, would be announced simultaneously by both the countries later, officials said.
President Mukherjee is expected to visit Beijing and Chinese industrial city of Guangzhou which has stronger trade links with India.
His visit, which was a reciprocal visit of Chinese President Xi Jinping to India in 2014 will be followed by Prime Minister Narendra Modi's visit to Chinese city of Hangzhou to attend the G20 leaders summit in September.
President Xi was expected to travel to India to take part in the Brazil, Russia, India, China, South Africa, (BRICS) summit scheduled to be held in Goa on October 15-16.
PM Modi made a high-profile visit to China last year.
The visits at the highest level make 2016 a unique year, officials said as they help widen the contacts between the two countries.
This itself is a progress in India-China context, one official said.
Such high-level contacts were expected to help iron out irritants like the China's repeated move to block India's bid to ban Jaish-e-Muhammad leader Masood Azhar in UN.
China has put a technical hold on the India's move setting off strong reactions from New Delhi.
The issue figured in this week's meetings between External Affairs Minister Sushma Swaraj, Defence Minister Manohar Parrikar and Mr Doval with their counterparts.