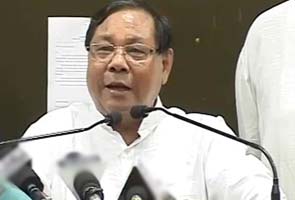 Kolkata:
Presidential hopeful
PA Sangma
took his appeal today to the Writer's Building in Kolkata to seek the support of Mamata Banerjee, the one UPA ally who has not yet pledged her support to the ruling alliance's candidate for president
Pranab Mukherjee
.
Mr Sangma said after his meeting with the West Bengal Chief Minister that he was "very happy with the outcome of the meeting. I am going back with a lot of hope. Mamata
di
has supported me before." Mukul Roy, a senior leader of Ms Banerjee's Trinamool Congress said his party will discuss the issue and take "a decision at the right time."
The Trinamool has not said yet who it will support after
Mamata Banerjee
's extravagant brinkmanship in Delhi two weeks ago came to naught. Though she partners in the ruling UPA at the Centre, she had stunned everyone by slighting the Congress, its president Sonia Gandhi and the Prime Minister by saying that none of the candidates that it was considering was acceptable to her. She, along with Mulayam Singh Yadav of the Samjawadi Party, had instead furnished a wish-list of three that included the name of Dr Manmohan Singh and that of ex-president APJ Abdul Kalam.
While Mulayam Singh came around soon enough and pledged support for Mr Mukherjee, Ms Banerjee, isolated but defiant, stomped back to Kolkata. When Mr Sangma had sought her support earlier, Ms Banerjee had said she could not do that as she supported Dr Kalam for President. Mr Sangma had then requested her to support his candidacy if Dr Kalam did not contest. Dr Kalam is not contesting.
Mr Sangma, who aspires to be India's first tribal President, is the official candidate of the BJP-led NDA, minus the important JD(U) which has said it will support Mr Mukherjee, and regional parties like the AIADMK and the Biju Janata Dal. Together, these parties do not have the numbers in the electoral college to swing the election in Mr Sangma's favour - he currently stands to win about 30% of the vote in the election, scheduled for July 19.
But Mr Sangma is confident that he will make a contest of it.
His campaign travel plans have included a visit to Hyderabad in Andhra Pradesh, where he attempted to meet YSR Congress chief Jagan Mohan Reddy, who recently won a spectacular haul of assembly seats in by-elections. Mr Reddy is in jail and the authorities there did not allow Mr Sangma to meet him.
Mr Sangma then met Mr Reddy's mother, Vijayamma, who campaigned extensively after her son was arrested, urging people to recognise that he was being punished by the ruling Congress for his growing popularity.
Mr Sangma, a former Congressman, is a senior leader of the NCP, which is a UPA ally. His own party has disowned his candidacy.
It is Mr Mukherjee, as the candidate of the UPA, thst the NCP supports. Mr Mukherjee is looking at about 54% of the vote, with Opposition parties like the Janata Dal (United) and the Shiv Sena abandoning their coalition, the NDA, to support him.