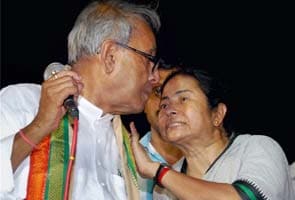 New Delhi:
Trinamool Congress supremo and West Bengal Chief Minister Mamata Banerjee Sunday telephoned Pranab Mukherjee, who was elected as India's 13th President, to congratulate him and assured him she would attend his swearing-in July 25.
"Yes, Mamatadi had called up Pranabbabu after it became clear that he had won the presidential election. Pranabbabu thanked her and requested her to be present during the swearing in ceremony. Mamatadi has assured him she will be present during the ceremony," said party MP Kunal Ghosh.
Mr Mukherjee will be India's 13th President, officials announced Sunday, as the former finance minister comfortably crossed the halfway mark with 558,000 votes to secure his journey to Rashtrapati Bhavan.
His rival, former Lok Sabha speaker PA Sangma, was way behind with 239,966 votes as counting continued, Mr Mukherjee's polling agent Pravin H Parikh told IANS. "He has crossed the halfway mark. He is the president-elect," Parikh said.
Though the result was clear, votes would continue to be counted till all the ballot boxes were opened.
Ms Banerjee had earlier opposed Mr Mukherjee's candidature for the top job and had proposed former president APJ Abdul Kalam's name for the post.
But after Mr Kalam decided against contesting, Ms Banerjee was mum on whom her party would back until she made a dramatic u-turn and extended her support to Mr Mukherjee.