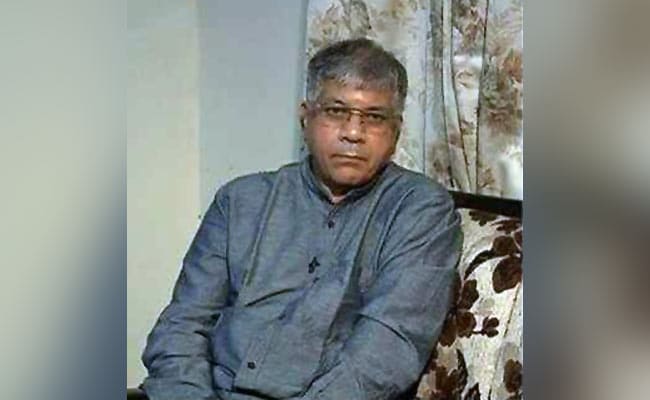 Bhopal:
The politics of religion, if not checked, could give rise to "many Hafiz Saeeds" among Hindus, Dalit leader Prakash Ambedkar said here today.
"The politics of religion can become uncontrollable if it is not checked and it can give rise to many Hafiz Saeeds among the Hindus," he said, referring to the Pakistan-based co-founder of terror outfit Lashkar-e-Taiba.
"This new order, in the name of religion, that is coming into existence is like Hitler-shahi (Hitler's rule)," Mr Ambedkar said, addressing the gathering at a programme, organised to mark the birth anniversary of former Satna MP, late Sukhlal Kushwaha.
Referring to the recent violence in Maharashtra over the 200th anniversary celebrations of the battle of Bhima-Koregaon, Ambedkar, who had subsequently called for a bandh which brought life in Mumbai and elsewhere in the state to a halt, said, "People belonging to Hindutva organisations attacked those from the backward classes.
"We are demanding that the (Maharashtra) government arrest those who were involved, but the government appears to be helpless. It is the government's responsibility to act and if not checked immediately, it (violence against Dalits) may spread to the other states."
He urged the backward class communities to recognise their electoral strength and vote only for backward class, Dalit and tribal candidates, so that they could control the reins of power.
Referring to the BJP-led government at the Centre, Mr Ambedkar said, "If it comes to power again, even the right to speak, which we are enjoying now, will be taken away. Therefore, we have to fight to save this right and the Constitution."
The former MP, who is the grandson of Dalit icon B R Ambedkar, urged the Congress to declare backward class leader and the president of the party's Madhya Pradesh unit, Arun Yadav, its chief ministerial candidate for the upcoming state Assembly election.
"If the Congress fails to do so, we will have to choose our own way," he said.
Arun Yadav and former JD(U) chief Sharad Yadav were also present at the meeting.
(Except for the headline, this story has not been edited by NDTV staff and is published from a syndicated feed.)