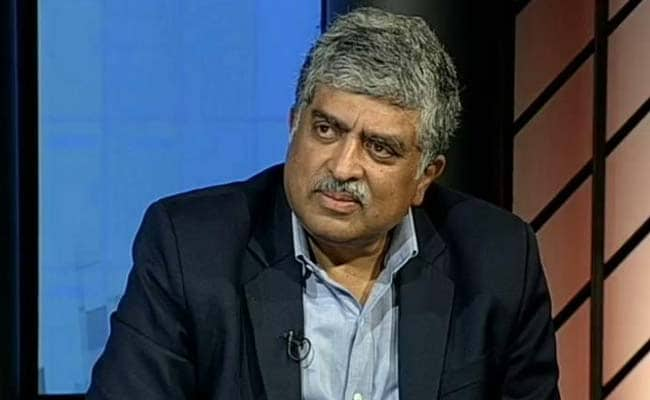 New Delhi:
On the NDTV Dialogues this week, Nandan Nilekani, the man who is the architect of Aadhaar, co-founder of Infosys and someone with big ideas for India, opens up in his first expansive interview since he stepped down from his government role and ran successfully for parliament.
As the architect of Aadhaar, on the invitation of ex-Prime Minister Manmohan Singh, Mr Nilekani spoke of his satisfaction that the Modi government has carried this scheme forward. When asked if his personal meeting with PM Modi helped the premier change his mind about a scheme he had denounced during the campaign for the national election, Mr Nilekani smiled, saying, "I think PM Modi understands technology better than any politician I have met. So, I am sure as Chief Minister of Gujarat, he had implemented Aadhaar. So he knew the value. The meeting certainly helped in the last 5% of convincing." Asked if there was any awkwardness, he quipped, "Only in speaking Hindi." He however ruled out joining government again, even if he was asked by Prime Minister Modi, saying he's "been there, done that".
Mr Nilekani also talked for the first time in detail on his election loss. Admitting that it was mortifying, he outlined why he feels "Politics is not a meritocracy", adding that he will never fight an election again as he doesn't feel he has any "competitive advantage". He said he still does see himself as a Congressman, however.
When asked about the difference between the UPA and the NDA, he joked, "the cow", but added, "changing Party A to Party B, will not solve anything, you have to fundamentally reimagine the way you do things. Going from event to event, its not going to fix anything." Before the budget, he also urged the government to seize the chance for bold reforms as he feels time running out. He also urged a "Common Minimum Programme" of ideas which could be bipartisan - like Aadhaar - for vital issues including the landmark reform GST or national goods and sales tax.
Asked what advice he would give the Prime Minister, if he met him again, he said, "I think it's about execution and empowering the right people, that's how it is going to get done." Advice to Rahul Gandhi: "He is very committed and idealistic, I think he has to combine both short term and long term."
The co-founder of Infosys, which led India's IT revolution, also talked about the new wave of startups and how much he enjoys meeting young, ambitious people, investing in a few lucky ones. However, when asked for the key difference in an enterprise like Infosys and start-ups, he said, "We could never lose money, these guys drop 50 million dollars in a month."
Finally, how does he spend his free time? "Doing absolutely nothing," he smiled. About time for the man who's travelled from being the co-founder of Infosys to being the architect of India's most ambitious social project, giving every Indian a unique identity.
Nilekani's advice to PM Modi in a rapid-fire session with NDTV