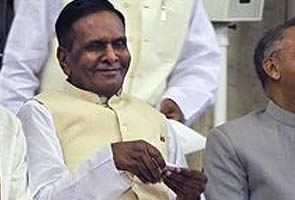 New Delhi:
More politicians are getting 'Z-plus' security and the new entrants include Union Minister Beni Prasad Verma and BSP MP Brajesh Pathak months after the list of VIPs in this category was pruned during P Chidambaram's tenure as Home Minister.
Mr Verma, the Steel minister, was provided with the enhanced security cover, after he claimed he was receiving threatening calls.
Asked whether the Z-plus security was justified for him,
Mr Verma cited his frequent visits to steel plants and mines in Naxal-hit Chattisgarh and receiving threatening calls.
He claimed that he had been provided security since early 90's and was downgraded for some period during which he had started receiving telephone calls prompting the Government to upgrade his security.
"I am also seen as opponent of (Samajwadi Party Chief) Mulayam Singh Yadav and there are political rivalries," he said.
Mr Chidambaram during his tenure as Home Minister had also ensured that the list of VIPs enjoying enhanced security is properly scrutinised. As a result, several politicians, retired bureaucrats and some journalists lost the security cover.
However, after Mr Chidambaram's departure from the Home Ministry, politicians have again queued up for enhanced security cover. Some of them have been specific in asking for para-military commandos of their choice, officials associated with the developments said today.
The Home Ministry issued a directive for providing commando security cover to Mr Verma following an "analysis" of various inputs suggesting that he faces a high security threat, they said.
The security cover to Mr Verma, MP from Gonda, will be provided by a special commando squad of the Central Industrial Security Force (CISF), a paramilitary force under the Home Ministry.
Under Z-plus category, the VIP concerned is covered by at least 20 personnel at any given point of time besides guards at home.
Mr Verma will have a mobile security team which means that the commandos will move with him even when he leaves the borders of the national capital.
The CISF's VVIP security wing is known as Special Security Group (SSG).
Brajesh Pathak, a BSP politician and Rajya Sabha MP, also enjoys Z-plus security cover which was withdrawn during the previous pruning exercise.
A total of 37 VIPs/VVIPs are under the CISF security cover at present and those under the 'Z plus' category of the central force include Manipur Chief Minister Okram Ibobi Singh, Punjab Deputy Chief Minister Sukhbir Singh Badal, Punjab Revenue minister Bikram Jit Singh Majithia, UP politician Amar Singh (Z category in Delhi) and Chairman of the Anti-terrorist front M S Bitta.
The national capital has the highest number of security personnel on VIP-guarding duties in the country after Punjab and more than a dozen policemen guard each of the 427 VIPs, who are being given security in Delhi.
According to the "Data on Police Organisations in India-2012", prepared by the Bureau of Police Research and Development (BPR&D), while there is one policeman in Delhi for every 253 common citizens, there are 5,183 policemen deployed for giving protection to 427 high-profile people in Delhi.
The protected persons include ministers, MPs, MLAs, judges and bureaucrats.
The report reflects that for 14,842 protected people nationwide, 47,557 police personnel have been deputed for their security for more than six months at a stretch.
In an affidavit submitted before Supreme Court, Government has submitted that its total budget for VIP security for the current financial year is Rs 341 crore.