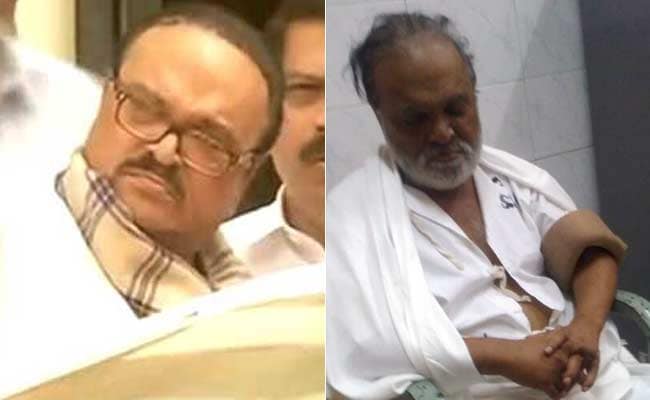 Highlights
Photo was taken at Mumbai's St George's hospital on Saturday
It shows dramatic change in appearance of jailed Maharashtra politician
Mr Bhujbal was arrested in a corruption case nearly six weeks ago
Mumbai:
A photograph of jailed Maharashtra politician
Chhagan Bhujbal
has gone viral for the dramatic change it shows in the appearance of the former deputy chief minister.
The photograph was clicked at Mumbai's St George's hospital on Saturday, about six weeks after Mr Bhujbal, one of the state's richest and most powerful politicians, was
arrested in a corruption case
and was sent to Mumbai's Arthur Road Jail.
Mr Bhujbal, 68, has been in hospital since last week, when he complained of a toothache. He was to be taken from jail to a dental hospital, but was sent instead to St George's hospital where he
complained of a chest pain and is now admitted
.
An inquiry has been ordered into how Mr Bhujbal landed in the wrong hospital.
The latest photo shows Mr Bhubal, slumped in a wheel chair, his eyes appearing to be closed. He has a white beard and moustache and scraggy hair and is dressed in crumpled white.
Jail has clearly not suited the senior leader of the Nationalist Congress Party, who appears to have lost considerable weight. The flair and flashiness associated with Mr Bhujbal is missing, along with the trademark muffler that he wore even in the middle of Mumbai's hot and humid summers.
He wore a muffler when he had
arrived for interrogation at the Mumbai office of the Enforcement Directorate
on March 15, waving to his supporters. He had no beard then and his moustache, trimmed and groomed, was dyed black.
Mr Bhujbal was arrested that evening after over 10 hours of questioning. The former minister and his relatives have been accused of receiving kickbacks for awarding various government contracts, including that for the Maharashtra Sadan, a state government guest house, in Delhi.

Mr Bhujbal and his party have denied all charges against him and allege a political conspiracy by the BJP-led government in Maharashtra.