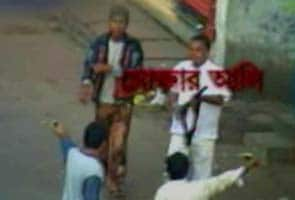 Kolkata:
A policeman was shot dead when a clash between two groups of students at a Kolkata college turned violent today. Three people have been injured and are in hospital and three men have been arrested.
The clashes began at the Harimohan Ghose College in the Garden Reach area of the city this morning, when nominations for a students' union election were being filed. The fight between the students, reportedly members of unions affiliated to the Congress and the ruling Trinamool Congress, spilled outside the college, where, the police says, some men armed with crude bombs and guns joined in. Video of the clash shows some men openly holding up and brandishing rifles.
The cop, Sub Inspector Tapas Chaudhari, was shot when he tried to intervene; he was rushed to hospital, where he died. The area is tense and the Rapid Force Action Force has been deployed. The local police is also out in full force.
Chief Minister Mamata Banerjee has said there will be an inquiry into the policeman's death and has promised that "the miscreants won't be spared." Her party, the Trinamool, said in a tweet, "Bengal CM has asked her ministers to stay with the family of the slain policeman Tapas Chowdhury until all formalities are complete."
The Trinamool has said no one from the party was involved in the incident and has blamed the Congress. Local Trinamool MLA Firhad Hakim alleged, "Two years ago a man named Mukhtar had opened fire in front of the college, in which six people were injured. Today, the same Mukhtar, who is now in the Congress, started shooting."
Sub Inspector Tapas Chaudhari, has two young children and was the only earning member in a big family. His family has said it will meet the chief minister to protest against his death.
In an uncharacteristically strong statement, West Bengal governor MK Narayanan had said last month that recent incidents of political violence in the state showed the prevalence of "a kind of goondaism and not political culture". He had suggested that the administration ensure that law and order is maintained.