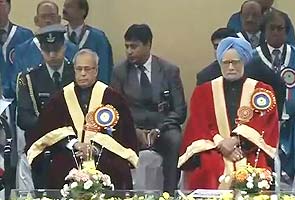 Kolkata:
Prime Minister Manmohan Singh today unveiled the country's science, technology and innovation policy that he said aims to put India among the top five science powerhouses in the world by 2020.
At the 100th Indian Science Congress in Kolkata, Dr Singh welcomed a debate on genetically modified foods, nuclear energy and space exploration and said faith and fear should give way to proper debate and analysis.
"The transformation of agriculture must be the top priority of our public policies, including science and technology policies. We must partner not only with established leaders in science and technology but with emerging innovation powerhouses in our region," he said.
Dr Singh said science should be used to meet the needs of the underprivileged.
The Prime Minister is attending the science congress with President Pranab Mukherjee and West Bengal Chief Minister Mamta Banerjee. Around 12,000 scientists are expected to participate in the event.
The President inaugurated the science congress and said he wished to see India win a Noble Prize in science. "We need an educational system that lays importance on development of a scientific culture within the society. Mere economic growth without knowledge capacity to manage the dimensions of change would neither suffice nor be appropriate," Mr Mukherjee said.
(With inputs from agencies)