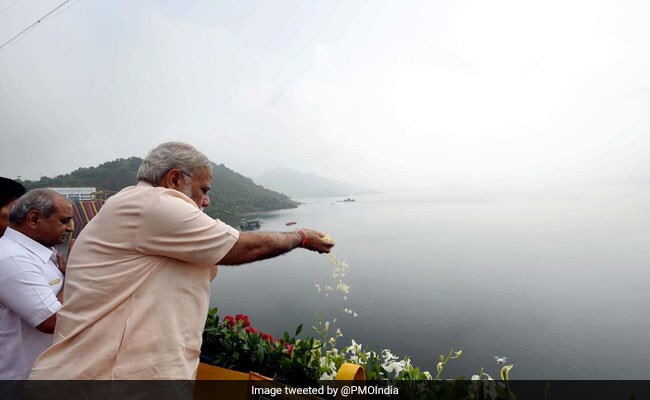 Dabhoi, Gujarat:
Prime Minister Narendra Modi today inaugurated the Sardar Sarovar Dam, the world's second biggest dam, on his 67th birthday. Prime Minister Narendra Modi said that the dam will usher in a new chapter of prosperity for Gujarat. The dam, which is on the Narmada river, will be launched nearly six decades after its foundation stone was laid by Pandit Jawaharlal Nehru on April 5, 1961. Prime Minister Narendra Modi gave a speech at Dabhoi for the dam inauguration.
Here are the highlights of Prime Minister Narendra Modi's address:
71 years before independence, before you and I were born, Sardar Patel had the dream and vision of the Sardar Sarovar Dam.
If work had been done, the project would have been complete in the 1970s itself, land would have been fertile and people would not have water problems.
Sardar Patel would be happy today for his vision helping farmers and citizens through the Dam.
The Sardar Sarovar Dam faced many hurdles. The World Bank had said it would not fund the project and did all it could to ensure India would not have a mega project like this.
But despite the forces against the Dam, India decided to build the dam with its blood and sweat. After the 2001 earthquake, when the project picked up pace, India showed the world what it could do.
A massive misinformation campaign was launched against the Dam, which is an engineering miracle.
I have a list exposing all those who tried to derail the project, but I do not want to politicize the issue. I am just happy that this Dam will benefit the farmers, the environment and countrymen.
The project sets new records. Even the amount of concrete that could be used to build a road from Kashmir to Kanyakumari and kondla to Kohima would be less for the amount of concrete used in this project.
Let us leave no stone unturned in creating a New India by 2022, when we mark 75 years of India's freedom.
The Sardar Sarovar Dam will become a symbol of India's new and emerging power.