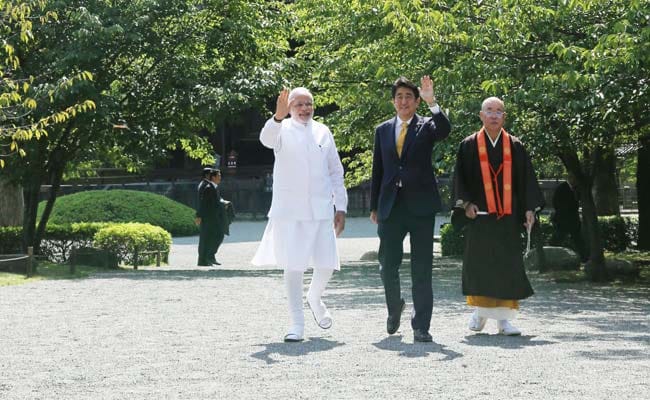 Kyoto:
Prime Minister Narendra Modi began the second day of his four-day trip to Japan on Sunday with a visit to the famous Toji Temple in the historic city of Kyoto. As he went around the complex of the ancient Buddhist temple, his Japanese counterpart and "good friend" Shinzo Abe accompanied him. (
To Japan With Love: PM Narendra Modi's Visit in Pictures)
The visit to Kyoto holds significance to PM Modi's vision for Varanasi, the constituency he represents in the Lok Sabha. Kyoto is a world class heritage city. The PM wants to develop the temple town into a 'smart city' on the lines of Kyoto.
(To Rejuvenate Indian Cities, PM Modi Takes First Step with Japan)
Dressed in a white
kurta pyjama
and jacket, the PM spent some relaxed, light moments at the temple and mingled with tourists, visitors and members of Indian expatriate community in Japan, who welcomed him by waving the tricolour and clicked pictures with him.
After the Toji Temple, the PM visited the 1397-built Kinkaku-ji (or Golden Pavilion) temple and later met the Governor and the Mayor of the city. During this meeting, he is believed to have been briefed about how the ancient tradition of Japan's cultural capital has been preserved while building Kyoto into a modern city. During a 40-minute presentation, the Mayor reportedly explained how Kyoto was cleaned up by its citizens. (
'I am Modi and you are Mori', PM told Temple Priest in Japan)
Prayer for peace! @PMOIndia meditating in the tranquility of the Kinkaku-ji (Golden Pavilion) Temple in Kyoto. pic.twitter.com/ShAWj4Uw3L

-- Syed Akbaruddin (@MEAIndia) August 31, 2014
"Rejuvenation of urban areas on agenda. Mayor Kadokawa tells @PMOIndia abt green, smart & modern yet historic Kyoto (sic)," tweeted External Affairs Ministry spokesperson Syed Akbaruddin about the meeting.
Just like Varanasi, the city of Kyoto has thousands of temples and shrines. For PM Modi, the Kyoto model could be essential in the process of rejuvenating Indian cities and developing 100 "smart cities", a promise repeatedly made by his government.
Yesterday, hours after PM Modi arrived in Kyoto, India and Japan signed the Kyoto-Varanasi partnership agreement to strengthen exchanges and cooperation in the fields of culture, arts, academics, heritage conservation and city modernisation. (
From One Prime Minister to Another: Narendra Modi's Special Gift to Shinzo Abe
)
Later in the day, PM Modi left for Tokyo where he will hold formal bilateral talks with Shinzo Abe on Monday.