Jerusalem:
Highlights
PM met Moshe Holtzberg, child who survived attack at Jewish centre
Dear Mr Modi, I love you, said 11-year-old Moshe
Moshe will grow up to be a Rabbi and return to India, said grandfather
A meeting in Jerusalem with 26/11 survivor Moshe Holtzberg - "Baby Moshe" to millions of Indians - was a heart-warming interlude in Prime Minister Narendra Modi's strategically important visit to Israel.
"
Namaste, aapka swagat hai hamare desh mein
(welcome to our country)," Moshe said, reading out a short and emotional message for PM Modi, flanked by both prime ministers.
The Prime Minister kept his arm around Moshe as he talked briefly about India, his parents, his wishes and declared, "Dear Mr Modi, I love you and your people in India."
Now 11, Moshe lives with his grandparents in Afula, around 90 km from Jerusalem.
He lost both his parents in the Mumbai terror attacks on November 26, 2008, shortly before his second birthday.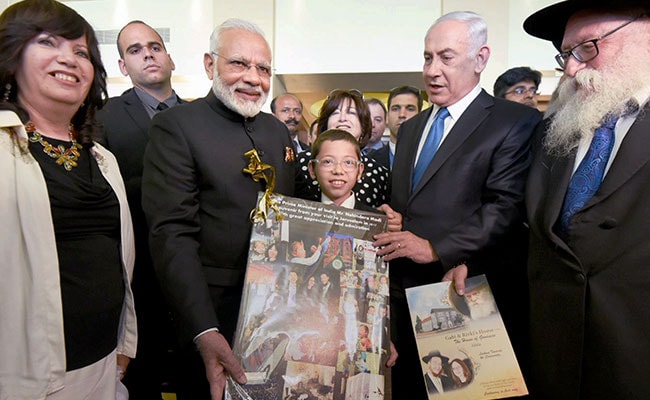 Rabbi Gavriel and Rivka Holtzberg were directors of the Chabad House, popular as Nariman House, one of the sites of the terror attack in which 164 were killed.
As terrorists stormed the Chabad House, Moshe's nanny Sandra Samuels grabbed him and hid in a room. She had heard Moshe's cries and found him standing between his parents' bodies. Ms Samuels, who was given honorary citizenship by Israel, works in Jerusalem and meets the family on weekends.
"I love to play, I try to be a good student...Please continue to love me, always remember my parents," Moshe said.
"I hope I will be able to visit Mumbai. When I live there I will be the director of Chabad house."
PM Modi, holding him close, assured, "Anytime you can come to India. Anytime you can go..."
Moshe was "excited and emotional" about the meeting with PM Modi, his grandparents said earlier today.
"Moshe will grow up to be a Rabbi and return to India to become chief Rabbi of Mumbai. He loves football," his grandfather Rabbi Shimon Rosenberg told NDTV.
Does Moshe remember the terror attack? "He doesn't speak much (on the terror attacks) but says Chabad House is his home," said his grandfather. Moshe, he revealed, had plans to visit Chabad House when he is 13.
Get Breaking news, live coverage, and Latest News from India and around the world on NDTV.com. Catch all the Live TV action on NDTV 24x7 and NDTV India. Like us on Facebook or follow us on Twitter and Instagram for latest news and live news updates.