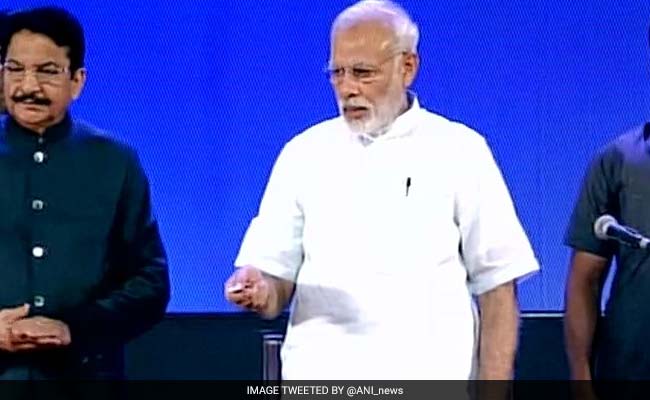 Pune:
Prime Minister Narendra Modi has launched 14 projects under Pune's smart city plan at a programme. Maharashtra Chief Minister Devendra Fadnavis is also attending the event.
Here are the highlights:
Glad you decided the come to Pune for this programme, a city known for smart people: Maharashtra Chief Minister Devendra Fadnavis to PM Narendra Modi.
I do not understand why we considered urbanisation to be a curse. I am glad you see urbanisation as an opportunity: Devendra Fadnavis to PM.
This smart cities initiative has taken care of the poor and stands for inclusive governance, that will transform cities: Devendra Fadnavis.
Prime Minister Narendra Modi launches smart city project in Pune.
A new urban renaissance is taking place. Lives of people in cities will be made better: Union Minister M Venkaiah Naidu in Pune.
The people of India are the smartest. Once their skills are harnessed then see the wonders that will happen: PM Narendra Modi in Pune.
Officials who met me wondered how we will select the cities. We didn't select anything, the credit goes to citizens of cities selected.
This Smart City project in itself is a mass movement and this experiment has been successful.
Gone are the days when there we competitions to be poorer. We are competing to move ahead, on the path of development.
There is a positive atmosphere, of competing on development works and that too in the spirit of Jan Bhagidari.
People of the cities have to decide about the development of their urban spaces. These decisions can't be taken in Delhi.
Spirit of participative governance is vital.
Let's consider urbanisation as an opportunity. Gone are the days when it was seen as a challenge or obstacle.
Cities are not only growth centres. Our cities have strength and capacity to mitigate poverty. People find work in cities.
Size of roads and builds aren't the only way to evaluate a city. Every city has a distinct identity.
Our urban spaces have to focus on solid waste management.
Smart cities are about modern facilities and becoming centres of development.