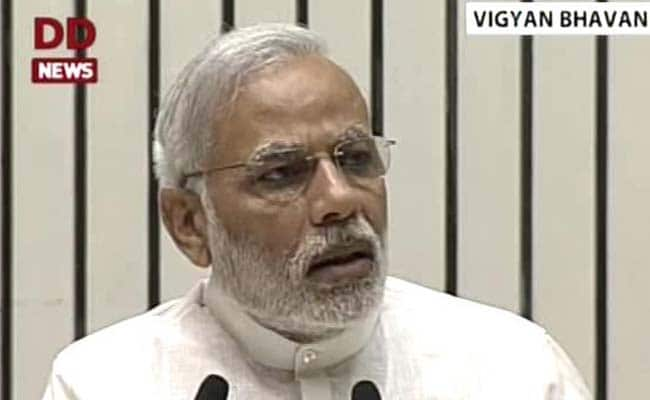 New Delhi:
Prime Minister Narendra Modi has inaugurated the two-day Conference of State Environment Ministers in New Delhi today. He also launched the National Air Quality Index, to monitor pollution levels in 10 major cities. He also addressed the gathering of ministers and officials.
Here is what he said in his speech:
The world is getting increasingly worried about the environment.
The world thinks that India is not bothered about the environment.
We have had a culture where environment has been equal to divine.
We are the least in terms of carbon footprints.
No one can question us on our intentions of protecting to environment.
We as a third world country are shy to raise a point to the world.
What was needed was that when there was talk of climate, India should have led the charge.
The world does not know how to solve climate problem and global warming.
We are trying to think of ways of reducing carbon emissions, but we are not thinking of changing our lifestyle.
Unless we bring a change in our lifestyle, we will not be able to save the environment.
India has a long and well-establish tradition of recycling in every household.
India has to take the lead in thinking of ways of protecting the environment.
We must think of traditional methods to tackle environmental issues. There can be green solutions in our age-old traditions.
Maybe the so-called English-speaking people will make fun of me for 24 hours.
In village, there was a tradition during the full moon. Grandmothers used to make kids thread needles in the moonlight. We are now so cut off from nature.
If we say that on full moon light, we will not switch on the lights, and every household will have a festival of threading needles, can you imagine how much energy we can save if we switch off the streetlights for one day?
Why don't we make Sunday cycle day? People may call me an agent of cycle companies. I am saying that only one day a week, don't use fuel-driven vehicles.
Some people are of the opinion that environmental protection and development are against each other. But the truth is that they can both be achieved at once.
The government's Land Acquisition Bill does not talk about forests, or tribals. But lies are being spread about this.
Urban bodies need to focus on solid waste management with programmes to generate wealth from waste.
If we make fertilisers and send them to the villages, then good quality, affordable, vegetables can come to the cities.
We need to look at projects that involve waste water treatment to give recycled water to villages.
India is ready to take the lead in environment protection, on nuclear energy.
But people who lecture us on environment and the use of cleaner energy don't give us nuclear fuel. These are double standards.