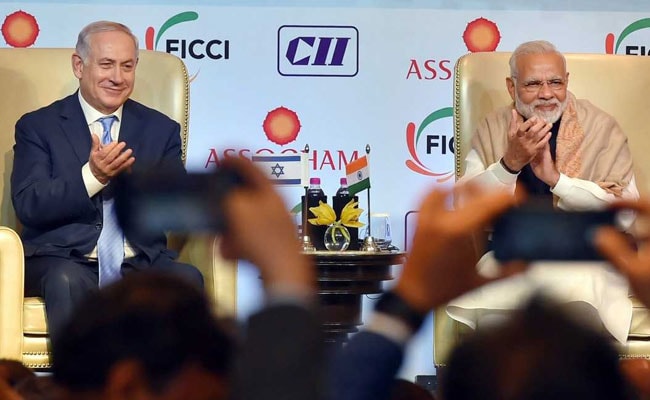 Highlights
PM Narendra Modi, Benjamin Netanyahu hold talks on combating terror
India and Israel will also work on a free trade pact
Bilateral trade rises from $200 million in 1992 to $4.16 billion in 2016
New Delhi:
Prime Minister Narendra Modi has invited Israeli defence companies to India for co-production during his bilateral meeting with Benjamin Netanyahu, his Israeli counterpart whom he referred to as "my friend Bibi". The two countries signed nine agreements, including ones on cooperation in the oil and gas sector and co-production of films. The two leaders also held extensive talks on controlling terror, a matter on which Israel has a tough stand. The two nations have also decided to work on a free trade pact that Israel has been pushing for, reported news agency Reuters
At the India-Israel Business Summit, PM Modi said increasing bilateral trade with a hi-tech economy like Israel was an economic necessity for both countries. "Given the scale of the Indian economy and the relevance of cutting-edge Israeli technologies for us, even sky is not the limit for what we may achieve together," he said.

Mr Netanyahu, who said he saw a "kindred spirit" in PM Modi in terms of getting things done, pushed for a free trade pact. PM Modi has agreed to open trade discussions, said foreign secretary Vijay Gokhale. "A delegation from the commerce ministry will go next month for discussions on trade," Reuters quoted Mr Gokhale as saying.

Bilateral trade between India and Israel has jumped from $200 million in 1992, when the two nations opened diplomatic relations, to $4.16 billion in 2016, largely in favour of Israel. Mr Netanyahu, who has come to India with a 130-member business delegation, wants to increase exports to India by 25 per cent over the three years.

PM Modi, without referring to the Rafael anti-tank missile deal, said he has invited Israeli companies to "make more in India with our companies". India scrapped the $500 million deal to buy 8,000 anti-tank guided missiles from Israel's state-owned defence contractor after the DRDO offered to build similar missiles. The Army and the government are reportedly discussing ways to revive the order.

Israel has given initial approval for Indian energy companies to explore oil and gas in the eastern Mediterranean. It would be the first such move by Indian firms in that region.

Mr Netanyahu also visited President Ram Nath Kovind today. In an example of India-Israel cooperation in agriculture, olive tea was served to Israel Prime Minister.

On Tuesday, Mr Netanyahu will inaugurate this year's Raisina Dialogue - the annual flagship geo-politics conference, which will be attended by PM Modi and foreign minister Sushma Swaraj. Before that, the Israeli Prime Minister will also visit Agra to see the Taj Mahal along with his wife.

The bonhomie between the two leaders was on display through the day as they held bilateral meetings and addressed the media and PM Modi hosted a lunch for Mr Netanyahu. The visiting leader called PM Modi a "revolutionary leader" and used endearments like "my friend Narendra". The Prime Minister responded with great warmth, welcoming the guest in Hebrew.

The Israeli Prime Minister -- only the second Israeli PM to visit India and the first since Ariel Sharon in 2003 -- also offered to do yoga with Mr Modi, saying, "Anytime you want to do a yoga class with me, it's a big stretch, but I'll be there."

Mr Netanyahu said he was thrilled about the film production agreement, stating, "My wife and I are very happy that we are going to Bollywood." The Israeli PM is accompanied by his wife Sara on a six-day tour, during which they will visit the Taj Mahal and also Mumbai where they will meet Bollywood celebrities.