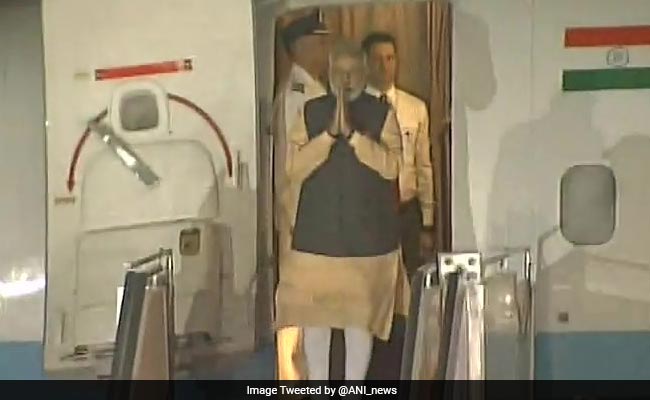 Panaji:
Prime Minister Narendra Modi arrived in Goa this evening to participate in the BRICS summit which is beginning in Panaji tomorrow.
PM Modi was received at INS Hansa base by state's Governor Mridula Sinha, Chief Minister Laxmikant Parsekar, Deputy Chief Minister Francis D'Souza and others.
The Prime Minister drove to a five-star resort at Benaulim where the summit will begin tomorrow.
"Over next few days, India will host world leaders for the 8th BRICS and 1st ever BRICS-BIMSTEC outreach summit," PM Modi tweeted earlier.
"I look forward to useful conversation with leaders from China, South Africa, Brazil and Russia on key global and regional challenges," he said.
"As BRICS chair this year, India embraces a stronger emphasis on enhancing economic, and people-to-people ties. This will benefit us greatly," the Prime Minister said.
"India is honoured to welcome President Putin for the India-Russia annual summit, which will also take place in Goa," the PM said.
"We also welcome President of Brazil for a bilateral visit, which will open new areas of cooperation with Brazil," the PM said.
"I am happy that India is facilitating an outreach summit with BIMSTEC leaders of Bangladesh, Bhutan, Myanmar, Nepal, Sri Lanka and Thailand. The outreach with BIMSTEC leaders is significant. We hope to tap the huge potential for cooperation and the dividends this will bring," he said.