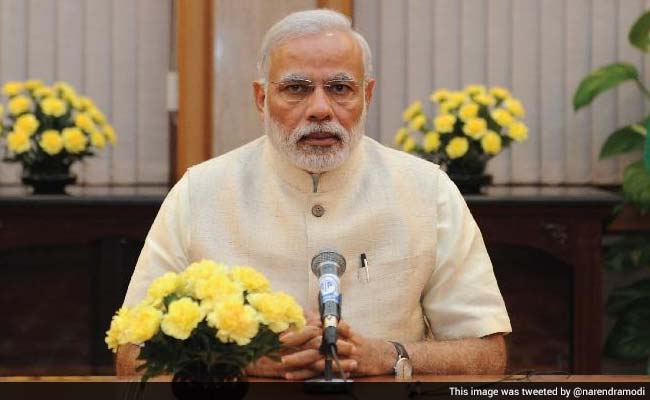 New Delhi:
PM Narendra Modi addresses the nation on the 26th edition of Mann Ki Baat. PM also shared feedback of the policy through phone messages by citizens in the country. He included audio calls from MyGov users Ashish Pare from Madhya Pradesh and Yellappa Velankar from Karnataka.
Here are the highlights:
Last month we all celebrated Diwali. Like always, I celebrated this festival with our Jawans.
A soldier once wrote to me in a letter that for them Holi Diwali, all festivals are alike. They protect the nation during festivals
A while back I met the heads of some Jammu anhd Kashmir's towns.
I had urged them to focus on the development of the future of the children in their towns.
I am happy that the heads of these towns lived up to their promises to me and helped carry out development in their towns.
The children of Jammu and Kashmir are dedicated towards achieving new heights through their performances in education.
When I had gathered feedback over the policy, I can say that the response was one-sided.
Everyone has egged me to speak in detail on the Rs 500 and Rs 1000 notes. I repeat what I told earlier, it will take 50 days to completely imbibe the change.
When I had taken the decision (of demonetisation), I had said that it would be full of difficulties.
It would take time to overcome problems we have been facing for the last 70 years. It will not be easy.

Don't play with lives of the poor by depositing illegal

money into their accounts

Governments, post offices, banks...they are all working very hard and are working with dedication.
I am immensely proud of the spirit of the common man.
I also got aware of a wedding on 'Chai pe charcha'. Surat's Bharat Madu and Daksha Parmar just served tea as a welcome drink and didn't throw a party for the event.
Farmers in our country are an important axis of our economy.
Small businessmen in our country also not only give employment but also increase economic activity.
Amidst this economic change, in the middle of difficulties every citizen is trying to adjust.
I took this huge economic decision for the betterment of labourer, farmers and the poor of the country.
An important decision was taken in the last budget, now small business can also carry work for 24 hours. Law will not stop them.
Many initiatives were taken for the same.
I agree small businesses are facing problems but using technology, mobile apps, mobile banks and credit cards they can bring out change.
Workers are not paid minimum wages; get less than written on paper. Opening bank accounts will help solve this problem.
We want labourers of the country to open bank accounts, deposit their salary in these accounts so minimum wage act is followed.
Once you have bank accounts, you can use e-wallet facility using any mobile phone.
You can buy things from neighbourhood stores using that.
I realise young men and women in the country did agree with this decision. You have supported it.
I would like these young men and women to help the elderly people in a family who perhaps are not aware of new technology
Our dream is a cashless society. I understand it is not completely possible. Let us begin with less-cash society and we would definitely reach a cash-less society.
There are many alternatives to cash today. Their are technological ways that are safe and secure.
Every bank has online facilities, mobile apps, cards, e-wallets.
After November 8, we have seen 300% surge in the use of Rupay cards.
One can carry cash transfer using phones with normal features.
Young men and women are agents of change. I believe one young individual can take the responsibility of making ten families aware of this technology.
It's a fight against corruption and black money.
Kenya had introduced M-PESA mobile facility. Today their entire industry has shifted to this technology.
On the birth anniversary of celebrated poet and writer Harivansh Rai Bachchan, I would like to remind you all how his son and actor Amitabh Bachchan has lent his name to the Swacchta Abhiyan.
I would like to thank him for supporting the cause.