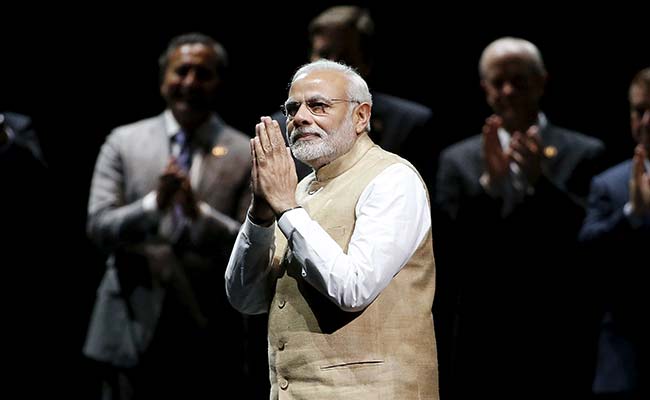 New Delhi:
Reserve Bank Governor Raghuram Rajan on Wednesday described Prime Minister Narendra Modi as being "ahead of us" but said his visits abroad need to be backed up with "action on the ground".
"I think it is changing positively," he remarked on the world view of India in the aftermath of Prime Minister Modi's foreign visits.
He is a "very articulate spokesman for India", he added.
"What we need to do is back up his visits with action on the ground which reinforces the good impression that is created," Mr Rajan told NDTV.
The RBI governor, who has often been seen as not toeing government line on the monetary policy and other issues, acknowledged Prime Minister's initiative to market India as an investment destination but said the message of a strong Indian economy has to be backed up with action on the ground.
"I think he (PM Modi) is ahead of us. So we have to come up to speed in a number of dimensions. For example if the idea of India as a strong economy is sold outside and they come in, and they don't find the ease of doing business, the permissions, etc. people aren't (happy)," he said.
He said it is known abroad that "there are some issues that they have to deal with, but it should not be worse than their expectations.
"So I think we need to steadily improve the reality on the ground, this attempt to improve the business environment which is proceeding on many fronts is I think a great step in the right direction," he said.
Mr Rajan said the relationship between the RBI and the government has been strong, but added that he did not always agree with the finance minister's point of view.
"Otherwise, the public should start getting worried that the central bank is becoming too acquiescent. In a sense we have to be a gatekeeper and sometimes say no!" he said.
Mr Rajan, who had surprised markets by a bigger-than- expected half a percent cut in interest rates yesterday, said indicated of further easing of interest rates if data permits.
"I don't know if we have silenced critics (with the rate cut). I don't think that was the aim. I really think what we were looking to was the state of the economy and to see what best we could do in terms of policy at the particular moment keeping in mind a longer term of objectives of keeping inflation under control," he said.
The decision, he said, was a result of data being more consistent with what RBI wanted on rein-in prices.
On the slowdown in Chinese economy presenting an opportunity for India, Mr Rajan said in his opinion no country does better, if some other country does badly.
"We will be, on net, be hurt if China's economy slows. We want China to recover but they are offsetting benefits to the cost that are imposed by such a slowdown," he said referring to fall in prices of commodities that China imported that benefited India as well.
"So it's not an unmitigated blessing but there is a silver lining in this. There is also the opportunity to take advantage of this lower cost and hatch it to all the other cost to make it much more efficient.
"That is something we need to keep emphasizing. In times of difficulty corporations have to increase cost increase productivity and corporations are doing that we now need to do more of that," he said.