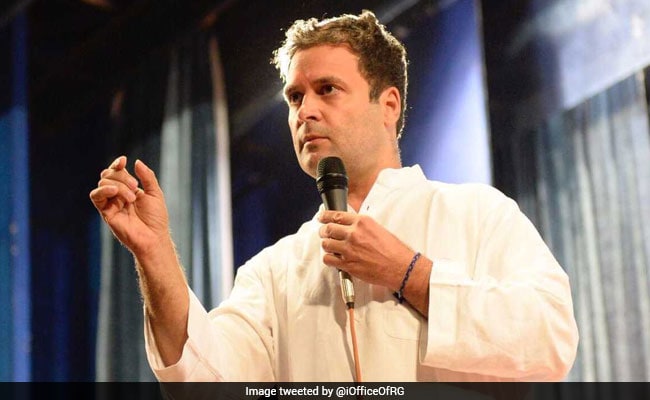 New Delhi:
Congress Vice President Rahul Gandhi today accused Prime Minister Narendra Modi of "robbing" the country of its economic prowess and "damaging" India by converting people's anger due to joblessness into "communal hatred".
On the first anniversary of demonetisation, which he termed as a "tragedy", Mr Gandhi said livelihood of millions of honest Indians were destroyed due to this "thoughtless act" of the prime minister.
"Modi's reforms have robbed India of its economic prowess," he alleged in an article in 'Financial Times' that said demonetisation has wiped out 2 percentage points of GDP growth and "ruined" the lives of millions of workers.
Mr Gandhi said the prime minister claimed his decision was aimed at wiping out corruption, but "Twelve months on the only thing he has wiped out is confidence in our once booming economy".
The Congress vice president alleged that demonetisation destroyed the informal labour sector and has wiped out many small and medium businesses.
"Mr Modi has damaged India by converting anger created by joblessness and lack of economic opportunity into communal hatred.
"He has chosen to hide behind a shallow, hate-filled political narrative. Anger might have brought Mr Modi to power but it will never create jobs or fix India's institutions," he said in the article.
Taking a poetic dig at the government, he tweeted in Hindi that even a single tear spelt danger for the government and one has not seen an ocean coming out of the eyes, tagging a picture of people crying while standing in queues.
"Demonetisation is a tragedy. We stand with millions of honest Indians, whose lives and livelihoods were destroyed by PM's thoughtless act," he said on Twitter.
"Ek aansu bhi hukumat ke liye khatra hai, tumne dekha nahin aankhon ka samundar hona" (Even a single tear is a danger for the government, you have not seen eyes turning into an ocean)," he said in another tweet.
The Congress, which described note ban decision as the "biggest scam" and a "money laundering scheme", will observed the demonetisation anniversary as "black day" by taking out countrywide protests in the form of processions, rallies and candle-light marches.
Congress leaders will pan out across the country and will participate in protests with "Desh Bhugat Raha hai" and "India suffers" as the central theme for the day.
Mr Gandhi is in poll-bound Gujarat to participate in protests in Surat, the country's diamond and textile hub.
Quoting the Centre for Monitoring Indian Economy, he said 1.5 million people have lost their jobs in the first four months of 2017 due to demonetisation, which he termed as an "arbitrary and unilateral" decision of the prime minister.
He also said the "hastily imposed and poorly conceptualised" goods and services tax "dealt another blow to our economy".
"Bureaucratic and complex, it (GST) has devastated livelihoods, creating a modern day 'Licence Raj' that imposes rigid controls and gives vast powers to government officials," he said.
Mr Gandhi, in his article, lauded the Chinese dominance in the manufacturing sector with its global share rising from 3 per cent in 1990s to 25 per cent now, and said that while China creates 50,000 jobs a day, India under PM Modi creates mere 500 jobs a day.
"This advantage comes with a brutal cost - China's people are not free to speak, to dissent or to question and those that do are swiftly and severely punished. This is not a model India should emulate," he, however, said.
Quoting Chinese president Deng Xiaoping that it doesn't matter what colour the cat is as long as it catches mouse, Mr Gandhi said "Today, the Chinese cat has firmly caught the global manufacturing mouse".
"The challenge for liberal democracies across the world is to compete with Chinese organisation in a world with 21stcentury levels of connectivity, while maintaining our liberal values.
"China's global monopoly on blue-collar jobs is a fundamental challenge to other states. This has created millions of disenfranchised and angry workers who express their frustration at the ballot box - whether in votes for Mr Modi, Brexit, or Donald Trump," he said.
"The rise of democratically elected autocrats, such as Mr Modi, is driven by two factors: a massive increase in connectivity and its profound impact on institutions; and, second, China's dominance of the global job market.
"Connectivity and the transparency it inspires has positively transformed the world, but in doing so it has also irreparably damaged the machinery of our institutions. The resulting fragmentation has created an environment in which strongmen can flourish apparently unchecked," he said.